Adulthood is one perpetual errand after another. A driver's license comes with the title of "Chauffeur" and there's ALWAYS some place that people have to go at a certain time. This gets worse as your family size increases–hubs has to be here, abc there, mini there, and then there's the things that I need to get done as well. I feel like I'm ALWAYS in a parking lot running to and fro. I had the recent pleasure (and I mean pleasure… like not in just the polite way) of whipping the new 2016 Mazda CX-5 around for a week that naturally was jam-packed with errands. No shade to my love Ruby Dee, but this Mazda (affectionately named Moonbeam) made my life so much easier!!!
Doctor's Appointments, New Daycare, and Groceries Oh My!
While I had Moonbeam, we were ripping and running. I was especially busy this week because we had decided to put abc into half-day daycare. After calling around and getting the information that we needed, abc and I were Zoom-Zooming around town to see which daycare met my (our) requirements. Pulling up to each one of the places I felt confident in this beautiful specimen. With the help of Moonbeam, we decided on the perfect daycare for abc before zoom-zooming off to the doctor for her 15 month check up.
Let's start with that I can't even believe that my once itty bitty baby is now a toddling, babbling, giggly wee person. It seemed like it was just yesterday she was born and now she has opinions! Well, she certainly had an opinion about the CX-5 and she approved of it!
Naturally, there were more errands to run this week. We stopped off at my favorite place–Trader Joe's aka TJ's–for some organic eats. Now, I love TJ's. What I don't love is the parking lot of TJ's. I feel like both people and cars are constantly jumping in back of you as you try to pull out of a parking spot. It's really ridiculous. Now while I'm normally riding in Ruby Dee I'm having multiple heart attacks as I miss one close call after another. But in Moonbeam? It was easy, breezy courtesy of their Rear Parking Sensors. I knew exactly when someone or something was getting to close to the vehicle before feeling like they were popping out of nowhere.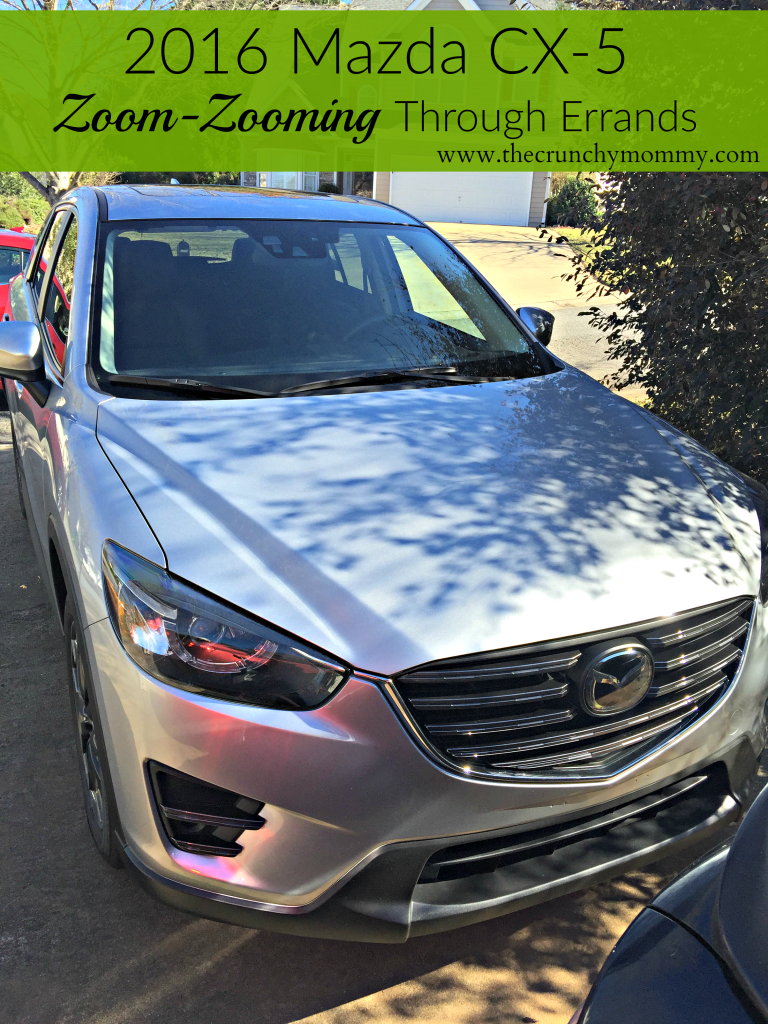 My Favorite Features
All? I kid but not. I pretty much loved everything about this vehicle but here are my ABSOLUTE favorites:
Auto-wipers (yes, this is big for me and I never thought it would be.
Seamless integration to my iPhone phonebook via Bluetooth
Built in remote start from your phone
Emergency braking assist (This is scary but super helpful. Someone stopped short in front of me and Moonbeam automatically stopped too! I wasn't ready for how hard it braked but this is a really great feature to have)
Moon Roof (It was like a panoramic view! I kept it open pretty much the whole week!)
Joystick control for the menu
High Beam Control (when you make a turn, the headlights shift offering a better view)
Push button start
Heated seats (nothing like a warm bottom!)
MAZDA CONNECT™ Infotainment System‡
Extra leg space
Features That Made Me Go #WompWomp
This is a short list. Like really short:
The sound system was awful. It's a Bose system so I was expecting great things and I was disappointed.
I love a cross-over. I feel like they offer perpetual errand runners the best of both worlds–gas mileage of a car with space like an SUV (almost anyways!).
What kind of car do you drive? Have you ever considered a Mazda?
**I was given this vehicle for 1 week in exchange for a review. All thoughts and opinions are mine and mine alone.**