Bloggers… We all know them and love them! This holiday season get them a gift that they'll really love and use!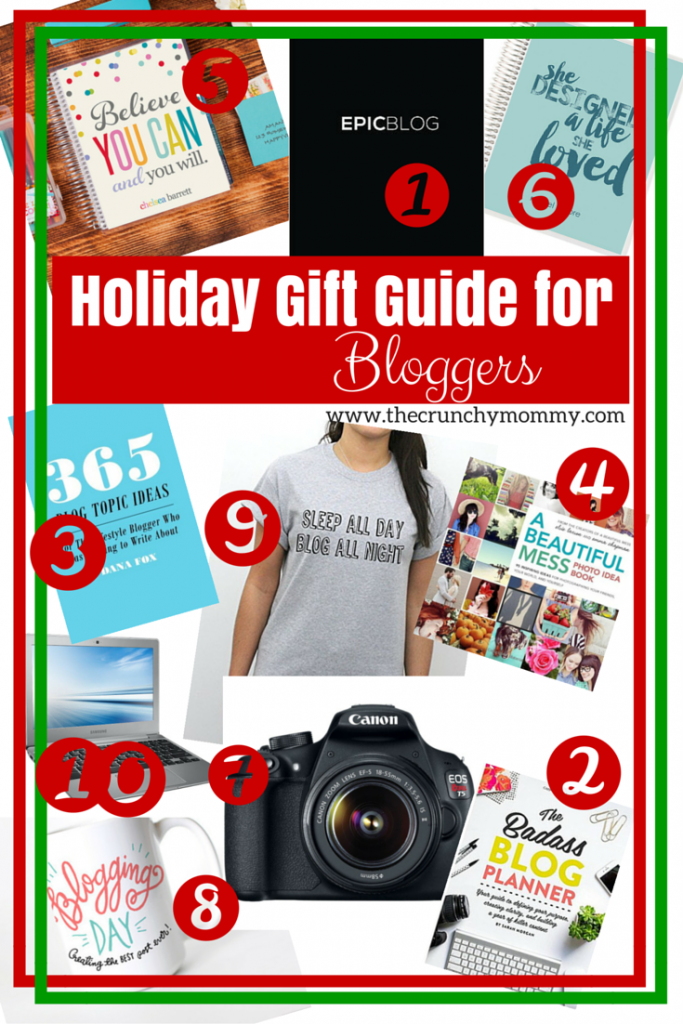 EPIC BLOG: One-Year Editorial Planner by Regina Anaejionu – The mastermind behind the uber successful blog By Regina came out with her own blog planner. This planner is purely for blogging and includes a monthly editorial calendar, blog business plan and more to keep every blogger focused on their goals.
The Badass Blog Planner by Sarah Morgan – Another planner by a successful blogger xo Sarah. This one has more color and graphics. She developed printables to accompany her planner as well and what blogger doesn't LOVE a printable?!?!

365 Blog Topic Ideas: For The Lifestyle Blogger Who Has Nothing to Write About by Dana Fox – Sometimes we have writer's block or we just don't know what to write about. Dana Fox, the woman behind the many successful sites, developed this book specifically to help us bloggers. 

A Beautiful Mess Photo Idea Book: 95 Inspiring Ideas for Photographing Your Friends, Your World, and Yourself by Elsie Larson and Emma Chapman – Blogging is no longer just writing. As a blogger, you have to be a creative, writer, chef, tutorial creator and photographer–just to name a few. Most times we start out with this great idea but struggle with capturing this great idea photographically. This is a great resource!

Erin Condren Life Planner – As bloggers, we also have lives outside of our editorial and social media calendars. As a mom and wife, I have to be able to balance the schedules of 4 people and a household of bills, chores, and meals. I love this Life Planner because you have choices on how you want your planner to be: weekly, hourly, daily, etc.
Nifty Notebook – This one pictured is by Erin Condren as well. I love a notebook with a motivational quote. It really encourages me to write and stay focused. Sure, we have OneNote, EverNote, and every other virtual notebook but oftentimes it's best to go back to the basics with notes.
Canon EOS Rebel T5 DSLR – I'm a newbie when it comes to photography–as are most of us–but I still want my photos to be hi res and look amazing. The Canon Rebel makes that easy.
Coffee Mug – Everyone loves a warm drink in the morning to get their days started. And let's face it, most bloggers don't get much sleep since we're either writing, thinking about writing, or writing about writing. Show your support of their passion!
Sleep All Day Blog All Night T-Shirt – see previous description ha!
Samsung Chromebook 2 – I love mine. The battery lasts for days, charges fast, and has a super fast start up. This is incredibly important for any blogger who does conferences or is an "on the go" writer. I was one of the only ones not stalking power outlets at my conferences this past year because my baby holds a charge!!!
As a blogger, what gift would you want? And if you love a blogger, definitely get them something from this list!
**Please note that this post may contain affiliate links.**