Can you believe that summer is around the corner? Once my birth season comes, that means no more school for the babes and mama is NOT about that "sit around the house and bother me" life. When I was a kid growing up in NY, summer camp was my FAVORITE! I started out at Camp Magic, then Camp Goodtimes, and then Camp Star–the final camp before we hit the "I'm too cool for camp" years. I did a couple stints at sleepover camp but my mom forgot about me one summer so that sealed the deal on me never returning.
Characteristics of a quality day camp program
Well, now that mini is FINALLY old enough to hit these here day camp streets, research has become my best friend. In my head, summer day camp is an extension of school–but just more fun. So when seeking out a camp, I look for these characteristics:
Experienced staff: While I do think that younger camp counselors are all sorts of great and awesome, I want an experienced program director that sees camp as more than just a day care but is invested in enriching the children.
Low staff to child ratio: Let's be real here, summer is here and the kids lose their minds. Summer = pool time, crafts, etc. and in order to keep safety first, there needs to be an appropriate amount of staff keeping the kids together.
Variety of activities: Independent, small and large grouped activities are so important in the development of children and this is something I look for in camps.
Field trips: Who doesn't love these?
Staff training: I've got some pretty scary camp stories that would have been downright awful if the staff wasn't trained properly and certified in CPR and first aid. Proper and ongoing training is a must.
Fun: I believe this is obvious.
Cost-efficient: Yes. It does need to be this as well. Cutting out one income is so big and isn't the easiest so making sure that the camp doesn't bleed us dry is super important.
Mini keeps telling me that she belongs on the stage and I can totally see her up there with all her drama-princess tendencies. One of this year's "to-do's" for me has been to really foster her development in the areas SHE wants to and what better place than camp to do that? I know that she isn't the only budding artist out there waiting to be discovered so here is my line-up of best camps to foster their growth: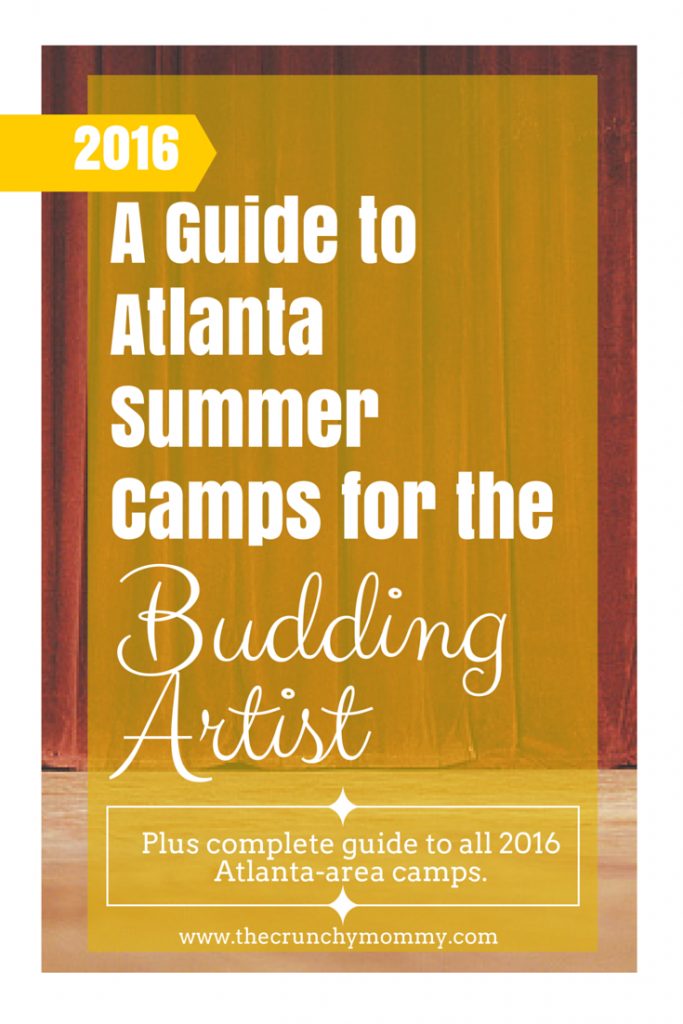 Top 15 Camps for Your Budding Artist
1197 South Lumpkin Street Athens, GA 30602
Summer Academy at UGA is an exciting series of over 30 specialty summer camps in Athens for middle school & high school students who want to do amazing things. Arts camps include music production, comic book art, animation, photography, digital film school, & fashion design.
Appropriate for: Teen
1746 Defoor Ave NW, Atlanta, GA 30318
Fabricate Studios offers sewing camps designed specifically for kids (ages 6-11). They have camps for those who are new to sewing or have limited sewing experience as well as more advanced camps. Students will learn to use a sewing machine and make multiple projects that they can show off while learning the mechanics of sewing and hand embroidery.
Appropriate for: Elementary, Teen, Adult
Various Locations
Forefront Arts drama camps for ages 3-14 feature acting, improv, creative play, singing, dancing, designing, and more.  Our camp instructors are professional actors and every camper participates in the performance at the end of each week.   Productions offered in multiple locations throughout Atlanta.
Appropriate for: Preschool, Elementary, Teen
Puppet Camp!
1404 Spring St, NW, Atlanta, GA 30309
This immersive, week-long adventure will allow students the opportunity to write, build, and perform their own world-premiere puppet shows. Campers gain inspiration and knowledge from experienced puppet professionals and guest artists. 
Appropriate for: Elementary
5910 Gateway Drive, Alpharetta, GA, 30004
Open for ages 6 – 13, our Circus day-camps introduce young people to everything from aerial silks to acrobatics, all while in a safe and positive atmosphere.  All ability levels are welcome!  Simply wear athletic clothing and bring a snack!
Appropriate for: Teen, Elementary
5187 Roswell Rd. NE, Sandy Springs, GA 30342
Introduction to guitar in different styles of music. Guitar instruction for  beginner and intermediate levels. Introduction to different music instruments and to world music. Basics of music theory, sight reading, and improvisation.
Appropriate for: Elementary, Teen, Preschool
115 Martin Luther King Jr. Drive, Atlanta, GA 30303
YEAH! is for youth interested in learning about acting and developing skills to be successful on and off stage. curriculum includes acting, voice and movement introduced through various course topics from the youth's perception in an effort to help aspiring entertainers develop their potential.
Appropriate for: Teen, Elementary
Brenau University
Co-Ed, One- or two-week sessions. TV/film acting, theatre, dance, musical theatre and performances, audition for top agents and casting directors. Produce a full show.
Appropriate for: Elementary, Teen
Atlanta and Milledgeville, Ga.
A musical experience with rehearsals and master classes, with a blend of recreational activities. Camp closes with concert performances
Appropriate for: Elementary, Teen
535 Barrington Dr., Roswell, GA
Learn how to tell stories clearly using guided exercises, creative thinking and local field trips.
Appropriate for: Teen, Elementary
Various Locations
Abrakadoodle Art Camps inspire kids to reach beyond and create art that is unique to them. By doing so, kids feel empowered to be creative and expressive. It's amazing to see just what kids design when given the freedom to explore and to express themselves creatively! Imaginations soar!
Appropriate for: Preschool, Elementary
Alliance Theatre, 1280 Peachtree St. NE Atlanta, GA 30309
Alliance Theatre Spring Break and Summer Drama Camps.  All ages. All levels of experience. Be a part of it. Camps are available for students K through 12th grade in musical theatre and performing arts.
Appropriate for: Elementary, Teen, Preschool
979 Crescent Avenue, Atlanta, GA 30309
Margaret Mitchell House writing camps provide an opportunity for youth to discover the power and excitement of writing. With a new theme and 10-15 participants each week, campers receive individual attention while learning writing techniques.
Appropriate for: Elementary, Teen
1778 Ellsworth Industrial Drive, NW. Atlanta GA 30318
Presented by Celebrity Choreographer CiCi Kelley, The Gotta Dance Atlanta KIDZ Summer Dance Camp consists of an enriching environment for young dancers ages 5yrs -13yrs old to learn and enjoy the art of dance.
Appropriate for: Teen, Elementary
175 Laredo Drive Decatur GA 30030
Weekly camps from June 1st thru July 31st, for kids ages 5 – 14 at MudFire Clayworks in Decatur, GA. Come PLAY in the CLAY!
Appropriate for: Elementary, Teen
1216 Spring St. NW, Atlanta, GA
Improv and games. Performance every Friday.
Appropriate for: Elementary, Teen
Other Really Cool Camps:
Break Into Business
Georgia Tech & Mount Vernon School
Camps for aspiring entrepreneurs. Launch a real business.
Appropriate for: Elementary, Teen
Peacebuilders Camp at Koinonia Farm
1324 GA Hwy 49 S, Americus, GA 31719
Peacebuilders Camp at Koinonia Farm is a unique overnight summer camp in rural south Georgia where youth ages 11 to 14 spend a week together learning how to work toward peace and justice. Campers enjoy farm life, play games and sports, go on field trips, learn about human rights.
Appropriate for: Teen, Elementary
Southeastern Railway Museum Camp
3595 Buford Hwy., Duluth, GA
'Railroad Adventures', where your child will learn about railroading while exploring over 50 historic trains.
Appropriate for: Elementary
Sports Broadcasting Camp
Emory University Campus
Learn from the pros. Make reporting, play-by-play and sports anchor tapes. Meet celebrities and more.
Appropriate for: Elementary, Teen
Project Inside Out
Holy Innocents' School, Atlanta, GA
Girls learn to build self esteem, leadership skills and help recognize the value of community service
Appropriate for: Elementary
Fashion Workshops
Atlanta, Buford
Learn about fashion designing and styling.
Appropriate for: Elementary, Teen
Camp Salud
Whole Foods, 5945 State Bridge Rd., Duluth; Harryís, 1180 Upper Hembree Rd., Roswell, GA
Hands-on cooking camp. World cuisines.
Appropriate for: Elementary, Teen
Peace and Carrots
1088 Bouldercrest Dr. SE, Atlanta, GA
Explore the farm and learn about care for animals and plants while also working on conflict management skills.
Appropriate for: Elementary
---
More Camp Info
Science Camp: Atlanta Edition (Really, are you serious?)
Summer Camps in Atlanta: What to Consider and How to Pay For It (Field Trips With Sue)
Finding a STEM based science camp – Atlanta Guide (Love, Peace and Tiny Feet)
Summer Camps: Athens, Ga (Mommy Octopus)
The Best Summer Camps in Georgia (365 Atlanta Family)
See the complete listing of Atlanta Summer Camps here.
So what are your kids' plans for the summer?