I'm sure you've all seen those moms running around the mall or at the parks baby-wearing like a pro and making it look so easy. Well whether you are a new mom or new to baby-wearing let me help you make sure you are 100% prepared with this super helpful list of the Top 5 baby-wearing must haves!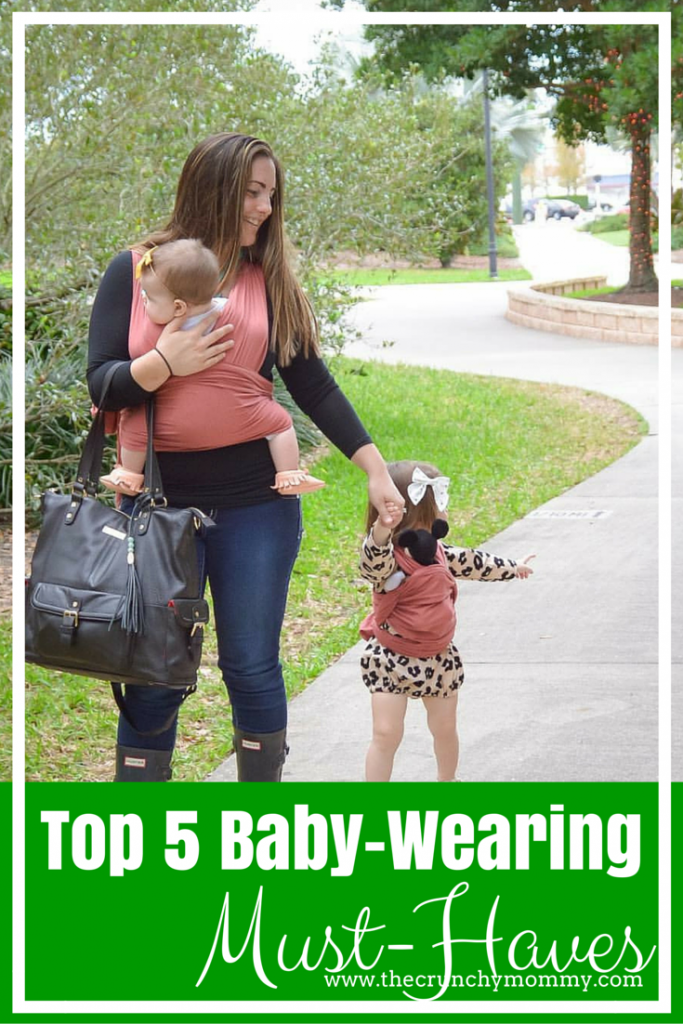 1. A good baby carrier is key!
The first step to successfully babywearing is finding the type of carrier that works best for you! I loved the wrap style for the newborn days but after a few months I found the baby more secure in a more sturdy type carrier.
Here are a few of my favorites:
The k'tan baby carrier- Find it here.
They also have a breathable one for warmer climate places! Find it here.
And of course, the Ergo 360. This is my go to carrier! Perfect for chasing around an active two year old while keeping my baby safe and sound. Find it here.
2. Teething drool pads
All babies go through that excessive drool phase and it can leave your baby carrier soaking wet. The best investment you can make are some drool pads. I love these ones:
Kaydee Baby Organic Reversible Teething Pads are my favorite and they are reversible! More usage and many cool colors! You can find them here.
3. A paci clip is key!
No searching for a dropped paci when you're out and about! This one by Nuby USA is soft and plush like for a soft feel against your baby's face. You can find it here.
4. A teething necklace for mom is two-fold.
A little something extra for baby to play with while you're trying to get some things done and an accessory for you! This is a win-win because you can wear it while you're not baby-wearing as well. As mom, I know I love anything multifunctional and i'm sure you do too!
I love this one here.
5. Keep baby protected.
If you're going to be outside at all it is important to make sure you keep the baby's head covered from the sun. When a baby is in a stroller you can use a sunshade but while baby wearing I highly suggest a wide brimmed sun hat for baby. My all time favorite is by SwimZip. Well made and long lasting! They are made with SPF 50+ Material AND blocks 98% of UVA and UVB Rays! You can find them here
Now that you know all the essentials you'll be baby-wearing like a pro in NO time at all. And best of all, you will be able to tackle whatever the day brings at you with TWO hands FREE.
Big thanks and warm welcome to Noelle from Oh Happy Play for today's post! Check her out on her site and her shop!
**This post contains affiliate links.**