Pancakes are a favorite here at the TCM household. I've always loved pancakes but being married to a pancake lover increased my own love two-fold. Pancakes are circles of deliciousness that you never want to end. When we went vegan, pancakes were one of the things that I was worried about.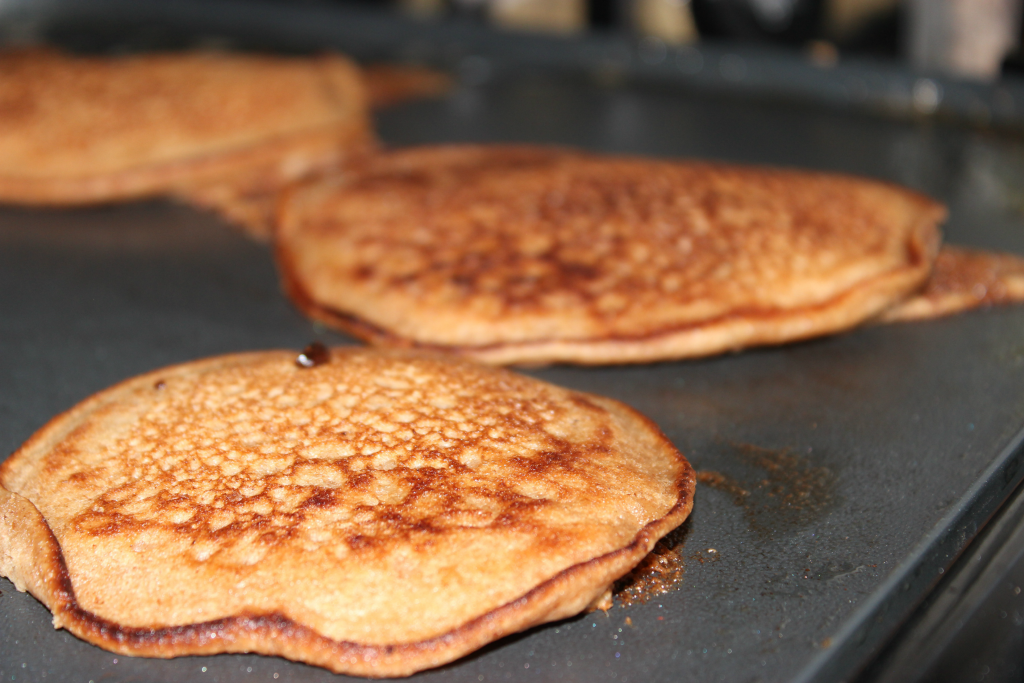 We love pancakes… but we have standards too
I've tried a couple of different recipes none of which held up with the kids or the hubs–they were ok for me but I would take a green smoothie over them. Until now. As I was scouring through Pinterest for yet another pancake recipe to try, I came upon Vegan Yumminess. Her pictures of her pancakes looked divine and so I figured I would try them–except I didn't have all the same ingredients and I don't think pancakes should ever be made without vanilla extract.
So I used her recipe as a skeleton for my own and VOILA! My own recipe was born!
I've made a couple others since these but none have topped these right here. The hubs and the kids are literally begging for more after they've each devoured between 2-4 each–leaving me with my oh so delicious green smoothie. Yay. That was sarcasm.
Vegan Cinnamon Roll Pancake Recipe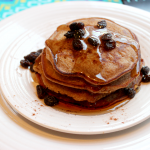 Vegan Cinnamon Roll Pancakes
You don't need dairy to make delicious pancakes!
Ingredients
1/4

c

Earth Balance softened ? Tasty tip

5

tbsp

brown sugar

3/4

tbsp

Cinnamon

1

tbsp

Flour

Pancakes:

3

tbsp

Earth Balance butter melted ? Tasty tip

1

tsp

Cider Vinegar

1.5

c

Almond Milk

3

tbsp

Agave Nectar

3/4

tsp

Salt

1.5

c

Flour

1

tbsp

cornstarch

1

tbsp

baking powder

1

tbsp

vanilla extract
Instructions
For the Cinnamon Filling:

Place all the ingredients in a bowl and mix. Put mixture in ziplock bag.

Place bag in refrigerator for 10 min (or freezer for 7 min).

Pancakes:

Mix all dry ingredients together.

Add all wet ingredients and whisk together until smooth.

Remove sandwich bag with cinnamon filling from fridge and cut a 1/3 inch hole in one of the lower corners.

Pour 1./4 c of batter on pan/griddle. Once bubbles have formed, squeeze the cinnamon filling in a circular (or whatever shape you can make) motion.

Flip pancake after an additional minute of cooking. Cook for 2 more minutes before removing from heat.

Repeat until all batter is cooked.

Top with raisins and syrup and enjoy!
I promise that you and your family won't miss dairy or eggs at all with this recipe!!!
P.S. Insider tip – not so great with using a griddle and spatula? I normally use the Babycakes Flip-Over Pancake Maker. Works like a charm for making perfect pancakes every time!