This article is sponsored by Boiron and contains affiliate links. We receive a small commission on qualifying purchases.
BBQ season is my absolute favorite. Between the grilled food, delicious sides and the company that normally comes along with it, I get so excited for this time of year. Now one of the dishes that is always ready for a battle is the potato salad. Without question, my mother-in-law makes THE best potato salad and I can't compete with that one. But I did come up with a roasted potato salad recipe that is pretty well appreciated around here. 
Jump to Recipe
There's More Nutritional Value In Roasted Potatoes
And in truth, flavor. I remember reading this somewhere and since then, I've been roasting potatoes instead of boiling them. While the potato isn't loved by all or even appreciated by all, you really can't go wrong with roasted potatoes. There's something about the crisp and flavor that just makes them *chefs kiss* so good. This is a pretty simple recipe that involves some tasty ingredients:
Golden potatoes (or whatever your fave is)
Bacon (yesssss!!!)
Vegan Mayo–it's just our preference
Purple onions
Boiled eggs
Seasoning
Roasted Potato Salad Recipe
I won't tell some long and beautiful story about how I made this for when we had our first BBQ at our new house and everyone loved it, making me feel amazing. So let's get into it.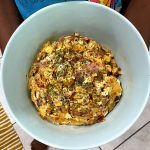 Roasted Potato Salad
Wow your loved ones with this tasty roasted potato salad.
Ingredients
1

purple onion

diced

1

yellow bell pepper

3

lbs

potatoes

cut into 1in pieces

1

cup

bacon

we used turkey

1

cup

mayo

6

large eggs

boiled

Mustard

to taste

Salt

to taste

Pepper

to taste

Smoked Paprika

to taste

Parsley

for looks
Instructions
Preheat the oven to 400 degrees.

Wash and cut potatoes.

In a mixing bowl, add potatoes, olive oil, 1tsp salt and make sure potatoes are fully coated.

Bake uncovered for about 30-45 minutes or until they're crisp.

While potatoes are baking, boil eggs and cook bacon.

Let the potatoes cool for a minimum of 15 minutes.

Chop the cooked bacon, yellow pepper and purple onion.

In a bowl, combine all the ingredients minus the parsley. Make sure to taste so that you can add seasoning until it tickles your taste buds.

Refrigerate for at least an hour.

Sprinkle parsley on top before serving.
You Need To Keep Boiron Acidil On You
Boiron has been my favorite maker of homeopathic solutions since abc was getting non-stop ear infections. Their products have helped us with flu symptoms, getting over ear infections, and colds. I've used everything from topical solutions to ingestible and hands down, they work the best. So when I found out about the Boiron Acidil, I knew that I had to get on board with this—it's BBQ season after all!
So what is Acidil? These are meltaway tablets that are made with plant-based active ingredients. They easily dissolve in your mouth and provide relief of acid indigestion, bloating, and upset stomachs. You don't need water to take them which makes them perfect for when you're traveling or eating out or at the office.
I love how these are plant-powered so you don't have to worry about harmful ingredients which is something that we take very seriously. These can be taken before or after meals—whenever the heartburn strikes and makes you feel like there's a slow burn from the inside out. Because the tablets are unflavored, they won't taint your tastebuds. The plant-powered relief of Boiron Acidil coupled with the ease of taking it makes it the #1 selling heartburn homeopathic medicine in natural food stores. 
So where can you get it? ALL the places!!! Just kidding but you can find these at Sprouts Farmers Market, Rite Aid, Whole Foods Market, Vitamin Shoppe, Amazon, and natural food stores. These babies retail for $11.99. Important to note: these are for use by adults and children 12+ years and if you are pregnant or breastfeeding, be sure to check with your healthcare professional first. 
SUMMER #BBQWITHOUTTHEBURN GIVEAWAY
Ready to try it? Be sure to enter the giveaway here and get this prize pack pictured below.
So now that we've found the solution for BBQ without the burn, what foods can you not wait to dive into this summer with the help of Boiron Acidil?