I love small businesses. Not because I'm a small business owner myself, but also because I know that I'm directly supporting someone with their dream with my purchase. Don't get me wrong, at any day of the week you can find me at Target or Walmart (two of my FAVORITE places in the world), but these are huge retailers where my hard earned dollar doesn't make a difference. Plus small business owners offer unique products and services.
Every Saturday until Christmas, I'll be featuring 4 small businesses and I'm pretty excited about it!!!! Ok, so let's get started…
Kinks, Curls, & Frills
Kinks, Curls & Frills was started by Aundrea Tabbs-Smith a couple years ago. Aundrea is a school teacher who has always had a flair for jewelry and started making her own. I have loved her designs since she started but I haven't been able to sport them since I have abc. She recently came out with a line of statement TEETHING necklaces!!! If you know anyone with babies, this is the perfect gift for them. Moms don't have to sacrifice style because they have a little constantly trying to chew them!!!
You can find her here: 
Facebook
Etsy
---
Renee's Wicked Good Cakes
Renee is a pediatric nurse at Boston Childrens Hospital by trade but decided to add the title of "Awesome Cake Maker" to her repertoire a couple of years back. Her cakes are beautiful and tasty. How awesome would these cakes be at your next event? Here are a couple samples of her work: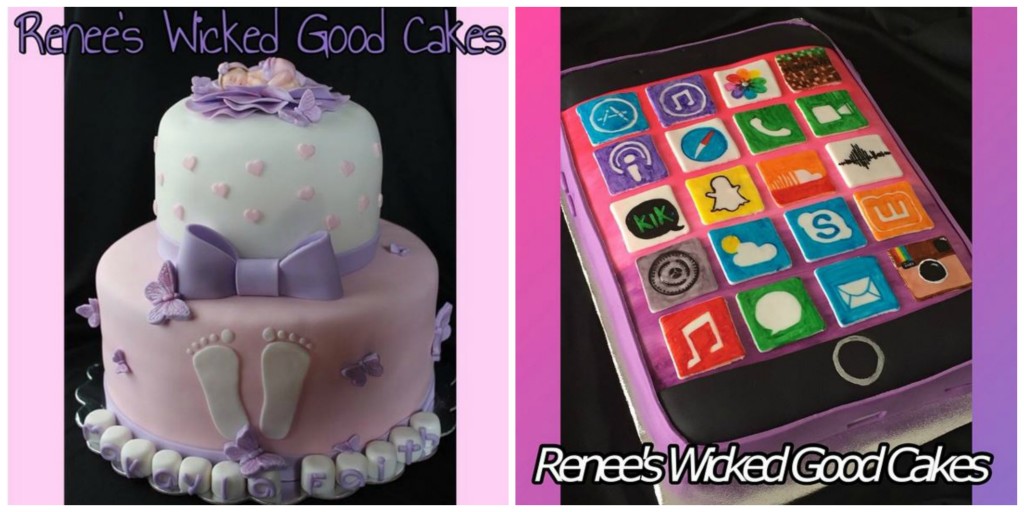 Check her out here:
Facebook
Pinterest
Instagram
---
Furever Fabulous
Not only does Renee make these fabulous cakes, but she's a mom too. Wanting to spend more time with her daughter, they worked together to develop a clothing & accessory line for pets. Her daughter learned to sew and is the mastermind behind all the creations. I don't know her daughter but I'm so proud of her entrepreneurial spirit!!! She makes everything from t-shirts and bracelets to pimping out puppy strollers. Posh right? Check out some of her work:
Her fashions can be found here:
Facebook
Pinterest
Instagram
Etsy
Began By Hand (yes, she's in a store!!!!!)
---
The Crunchy Mommy Shop
Yes, that's my own shop, ha!
I have a widget to the right that puts up some of my creations in my shop but I wanted to share some of the things that are up and coming for the fall (which is almost over, I know)/Winter seasons! To make sure that your hair and skin survive the dry air that the colder season brings, make sure you're washing and moisturizing with products from the "What You Shea?" line. There's a scrub, body wash and whipped hair/body butter designed to smooth and moisturize your skin and hair. Infinity scarves are making their way back so that your necks are kept warm–but not just for adults! Yep, the kids are getting some quality neck coverage as well! One of the things I'm super excited about is the fleece hats that are lined with satin–no more winter hair breakage! Want to keep up with the store as the new items drop or sales happen? Sign up for the newsletter here:
Subscribe to our mailing list
---
For this holiday season and all others, support small businesses!
Are you a small business owner? Drop me a line at hello@aaronicabcole.com to be featured!