"This post was sponsored by Starbucks as part of an Influencer Activation. I received compensation and complimentary products to facilitate my review."
It's 10:45pm and I've just fallen asleep after running on about 10 hours of sleep within 3 days. Happy to finally be in the bed at a decent hour, I slowly drift off to sleep only to be awakened 10 minutes later by a screaming abc. Disoriented is an understatement for that moment. Abc walked into my room screaming and I felt like I was being tortured. I was reaching my arms out for her to come to me and she was standing there screaming for me to come to her. It was a standoff. Neither of us won since Daddy swooped in and saved us both. Well, almost both.
I'm one of those sleepers that sleeps hard until they're woken up and then I can't go back to sleep which is why I'm so dependent on my morning cup of caffeine. I'm the perfect blend of my parents' vices of coffee and tea–I have a love affair with them both. I love the comfort that a warm cup of either coffee or tea provides first thing in the morning. As does my husband. In fact, when we first started dating, I would bring him cups of his favorite chai tea to work.
Now that I work from home and he works in the office, I make him at home tea instead.
Sharing Comfort with TAZO® Chai Latte
TAZO® Chai Latte K-Cup® pods makes it easy and convenient for us to continue to experience these moments of comfort together. We have a single serve Keurig®–it makes it way easier to regulate how much caffeine I consume–that gives us everything we need. Parenting is a tough job but it's easier when parents function as a unit. We use the time that it takes for us to make our cups of tea to go over the current day, highlight any "Reminders" and just connect with each other. After marriage, so many people forget to do the things that they did to get them married. Sharing smiles and giggles over cups of tea has always been something that keeps us connected.
Sweet & Spicy: The Perfect Blend
The TAZO® Chai Latte K-Cup® pods has made it so easy to bring the coffeehouse home and really gets the flavor balance right–down to the froth on the top. When the scent of the tea hits you, it's perfection. There are bold notes of cardamom sweetened by the likes of sugar and milk that leave you feeling balanced, ready to tackle your day. The mixture of the sweet and spicy flavors is almost representative of he and I in our marriage. I won't lie and say I'm the sweet since I'm definitely the spicy but like the TAZO® Chai Latte, we're the perfect blend.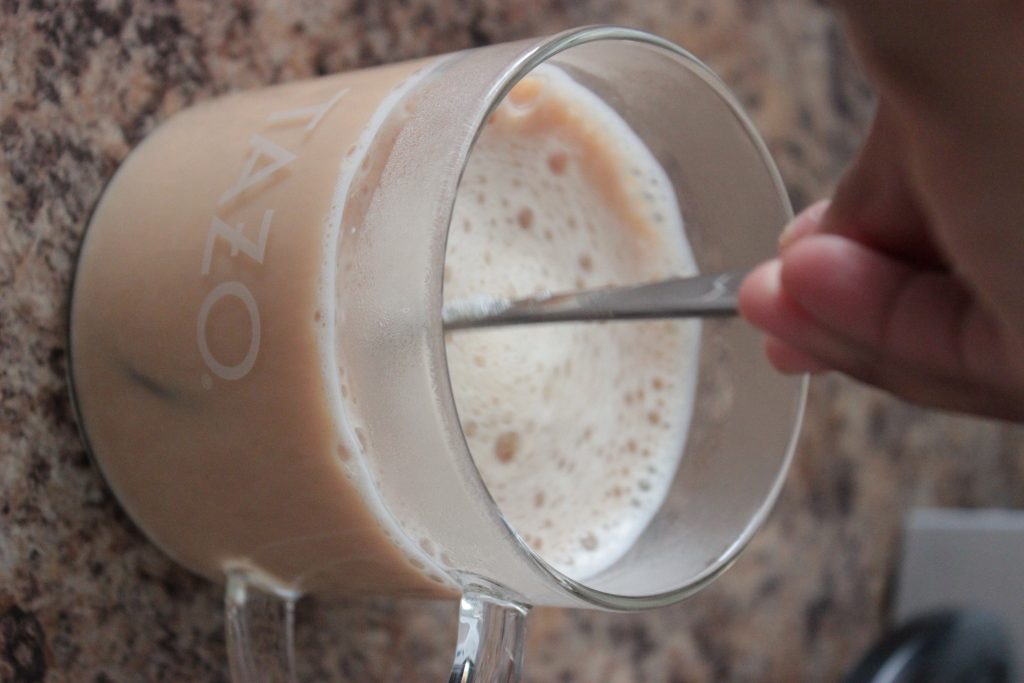 New to Chai?
Chai tea is a black tea that is a balance of sweet and spicy flavors that has a deep rooted history in India. It's made with the following delicious flavors:
Sweet Cinnamon
Fragrant Cardamom
Spicy Ginger
Black Tea
When making the tea, it's mixed with milk and sugar to give it the sweet creaminess that balances the spicy.
TAZO has partnered with Padma Lakshmi, New York Times Best Seller and host, to introduce the new TAZO® Chai Latte K-Cup® pods which is made from milk, tea leaves and spices. Padma teaming up on this project was natural since both tea and chai have been part of her life and family heritage. She's even come up with perfect recipe pairings–these Cinnamon Cookies are right up my alley!
Ready to taste the perfect blend of sweet and spicy? Find the TAZO® Chai Latte K-Cup® pods here.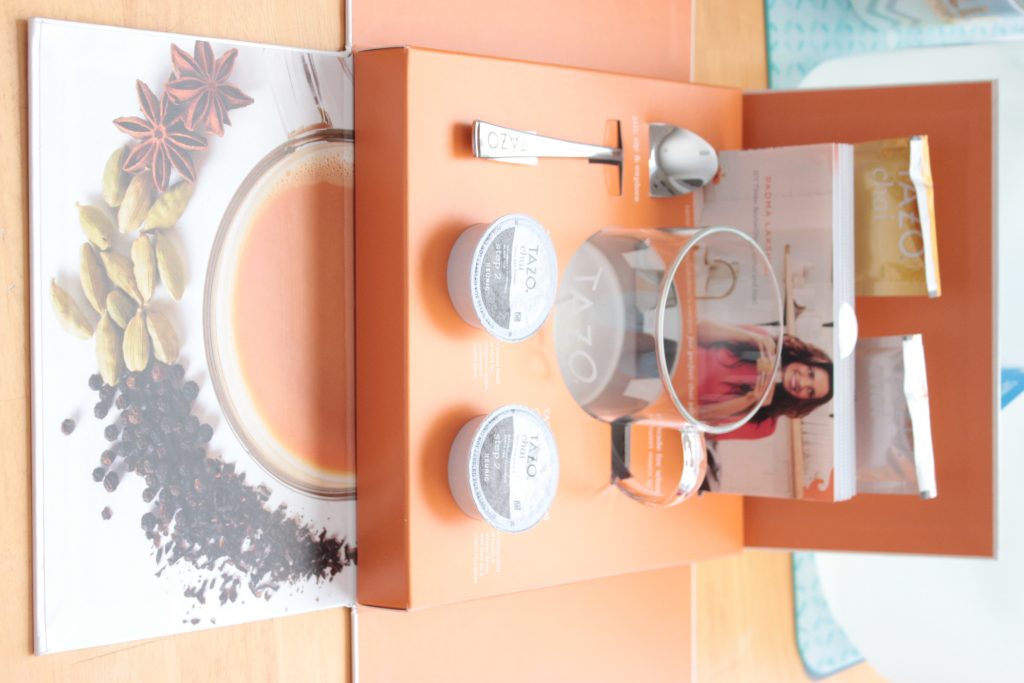 TAZO® Facebook  – TAZO® Twitter – TAZO® Pinterest – TAZO® Instagram
So, what's in your cup?