Hello and welcome back to another small business Saturday feature!!!
I'm excited to share these latest businesses so let's get started!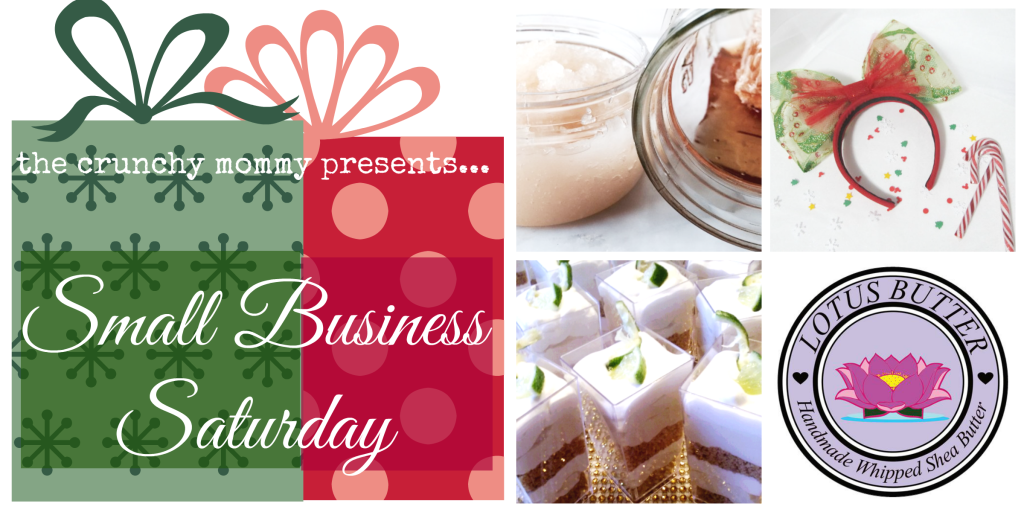 Red Velvet Catering & Events
This company was birthed out of my passion for cooking and serving delicious cuisine. Family and friends noticed and frequently suggested that I take my passion to another level. I resigned from my job and took a leap of faith to start this business. Now I've been operating full time since January 2005.
Red Velvet Catering & Events is an owner operated off-premise catering company that is dedicated to providing exceptional and memorable events in both taste and presentation. We specialize in elegant American cuisine from corporate lunches to elaborate weddings to custom cakes.

---
oh honey! Skincare
My name is Brittney and I am a mompreneur. I absolutely love what I do and that's create all natural products for your skin. So many products out on the shelves now have so many ingredients that are harmful for our bodies in one form or another. This, along with my almost three year daughter skin not liking anything I tried to use on her caused me to start making my own products. That way I know exactly what's going on my daughters skin and ultimately in her body. It wasn't long before I decided to share my products with family and friends. After that, I decided to share with everyone and anyone I could and that's what's brought me to this point.
My face and body scrubs are all natural. They contain ingredients you can pronounce and understand. Most importantly, I use the best quality ingredients I can find. Some are local to the Atlanta area but they all are in the rawest, purest, and most natural form so that they will actually provide your skin a benefit. Whether your skin is dry, blemished, dull, flaky, etc….the ingredients in my products will provide a benefit.

Website – Twitter – Instagram – Etsy
---
Kitty So Krafty
Kitty So Krafty was founded by my sister (Diana) and I in Miami, Florida.  We were born in Peru and moved to the U.S. 22 years ago.  We always liked arts and crafts and pretty much doing things with our hands.  We started doing things for ourselves and got many compliments here and there.  We then started doing things for other people, like bracelets and camera strap covers.
At Kitty So Krafty, we specialize in handmade jewelry, hair bows, and bow headbands.  When coming up with a design or idea, we like to put ourselves on the customer's shoes and ask "Would I wear this?"  Our handmade jewelry is very trendy, colorful, and strung on a stretch cord for easy on and off.  Our bow headbands and hair bows are sewn for extra security and since we are both Disney fans, you may see a hint of Disney love in our products! Our products are put together in a smoke-free environment.

---
Lotus Butter
Divine intervention for your skin
With the overwhelming choices of all natural and organic products available on the shelves today, it is hard trying to narrow down what works best for your skin.  So in 2013, Dwan Carter decided to try her hand at creating her own product that way she would always know what is in it, what was going on her skin and where the ingredients came from, truly organic. With less than five readable ingredients her clients know what is going on their skin as well giving them a piece of mind.
A Brooklyn native and alumna of Spelman College and The University of Georgia she has spent the last eight years in public service field. Helping others prevail against all odds is in her repertoire and with a little tweaking and perseverance Lotus Butter was born chemical, synthetic-free, paraben free and unprocessed.   "I started Lotus Butter in 2013, out of necessity. I was using all types of creams and lotions that were not ideal for my dry skin." Dwan started making her organic Shea butter infused with essential oils and fragrances in the kitchen of her home with the support of her friends and family.
Website – Facebook – Instagram
---
I hope you're as excited as I am to shop Small Businesses as I am!!!!
Don't forget that the Saturday after Thanksgiving is the big "Shop Small Biz Saturday" push so support these small businesses and more!
Want to be featured as a small business? Shoot me a message to hello@aaronicabcole.com!