I was having a conversation with my brother while he was here for Christmas and we were talking about life and some other things. And one of the things that we talked about was different systems that we had in place that really helped us be more organized and appear (or actually) help us get our shit together. Systems are one of my strengths–in a previous lifetime, I was trained in the GE workout process and was studying Six Sigma.
Creating and following systems is just how my brain works but I didn't know that "systems" was the buzzword for what I was doing–in my head, I was just working smarter, not harder. I'm not a gatekeeper of information so I'm going to share some of the systems that help keep our home running as smoothly as it can with 3 kids, 2 parents working from home, and being mostly on top of the things.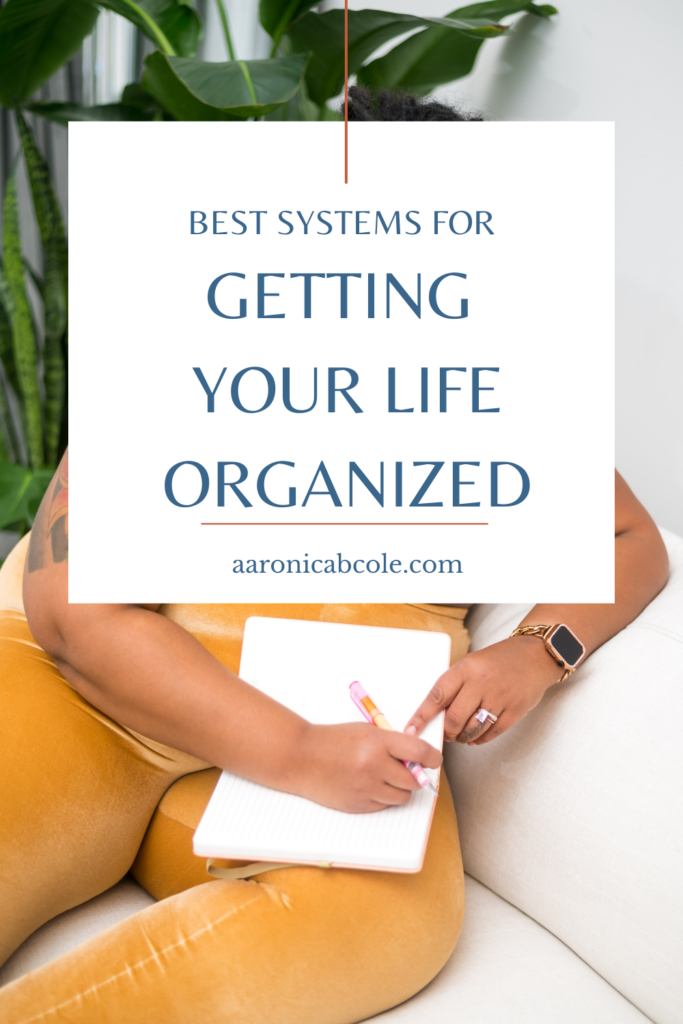 18 Personal Systems To Organize Your Life And Get Your Shit Together
Have one day of the week that you do most of your planning. For me, it's Sundays. I use this time to meal plan, put together my grocery list, grocery shop, take a look at what's coming up for the week with the kids' schools as well as my appointments.
Use a planner to plan things out. I feel like this is obvious but it may not be. I like using my iPad and I use a digital planner there. There are also notebooks that I keep at my desk that help me if I've left my iPad in another room and need to write something down.
Schedule things in Google Calendar. It feels like everything is compatible with Google Calendar so after I'm done planning, I add things into my calendar. I have the default set up to add 3 reminders when I add an appointment–1 reminder a week out, 1 reminder a day out, and 1 reminder an hour before. Setting it up as a default makes it easier for me in case I'm rushing through this task and don't have time to add reminders.
Have multiple calendars on Google. I'm someone who gets overwhelmed with lots of things on a calendar so I like being able to turn the calendar view off for certain things. We have a Family Fun, Kids Appointments, Adult Appointments, Travel, and my Work calendars.
Family Google Account. We each have our own Google accounts but we also have a family one and this is where we store family related documents. I'll scan things in with my phone using the Adobe Scan app and then add them there to keep a second copy.
Utilizing a grocery delivery service instead of shopping myself. I don't go to the grocery store anymore. We have both Instacart and Shipt memberships–one of these membership fees is free through our credit card company. I like to shop at Costco and Sprouts through Instacart and then Target and others through Shipt. Using them has saved me so much time and money honestly because I'm not just aimlessly adding things to my cart that look good.
Shred mail as soon as it comes in. When we moved, we had sooooo much mail to go through. Instead of doing that, we take shreddable mail to our room to shred immediately.
Put all marketing mailers in a folder. And then we unsubscribe using the PaperKarma App.
Make monthly appointments for hard to recycle items. There is a local place that is by appointment only where we can recycle some of the things that you can't put into the bins. So like fabric scraps, old socks/undies, electronics, etc. can all be taken and recycled properly there. Most things are free. In Atlanta, it's called CHaRM but check your local areas for a place for you as well.
Our kids have chores. Mini does her own laundry, the kitchen, her room. Abc is in charge of keeping the livingroom clean. BC is in charge of the sitting room and making sure the shoes are put away. If Mini wants to earn more, she can do more chores. She loves making money and it minimizes the things we have to do.
Morning/Evening routines. These are saviours in our household. My husband handles morning routines with the kids and we're working to create routines for ourselves that make sense. But my ideal morning is as follows: wake up before kids, workout, shower, have coffee, review my plan for the day, begin working. The evening routine is journaling, reading, stretching and kids to bed.
Keep a running list of gifts on Amazon. Last year for my birthday, friends asked me for my Amazon wishlist–I didn't have one. So I've now created running lists for myself, kids, household, and husband. I like doing this because if I ever want to treat myself, it's easy and if we're saving for something for the kids or house, it's easy to keep track of.
Have my cleaning supplies on auto-ship from Grove. I love Grove. It makes it so easy to make sure we have non-toxic cleaning and home supplies on hand all the time. They send me 2 emails to review what's in my cart before shipping it and their customer service is top notch. Doing this we never run out of laundry detergent and things like that.
Order monthly from Costco. There are some standard things we order every month in bulk. This includes our meat (which I may switch to ButcherBox), any paper supplies, snacks for the kids, oils for the kitchen, fruits like apples and oranges.
Set up personal cards to be mailed. I love Postable. They make sending out cards super easy. I use them and another app called Felt to send out cards and gifts to people montly.
Shared notes on Cozi App. Even though both my husband and I work from home, we don't see each other while we're working and things will come up throughout the day that we need to talk about. Instead of forgetting, we utilize the Cozi app to add notes to remind us. The Cozi App is pretty cool because you can create lists for things like budgeting, big expenses you want to save for, to-do lists, notes, and more.
Sunday family meetings. We do this to catch up on the week, review the next week, share anything that needs to be shared with everyone.
Parent meetings on Thursday. We don't always talk about things that have to do with the kids but this is our time to review the week, the next week, meal plan together, and just talk about things that need to be talked about to make things go smoothly.
More Personal Systems To Implement For Better Streamlining
While I thrive on efficiency, there are a couple of systems I'm adding to make things a little easier for me:
Setting up email rules. My email tends to overflow with a lot and it gets overwhelming. I'm going to set up rules that redirect email to spam, trash, etc so that way it doesn't bog down my inbox. Weekly I plan to review items marked as spam or trash to see if they truly are and tweak the rules to be better.
Hire someone to clean monthly. We clean often and Mini is actually excellent at it but I'd like to have someone come in monthly to do a deeper clean in the bathrooms, sinks, etc.
Empty inboxes monthly. I'm focusing on getting everything down to zero now but I think having a monthly system for this would be less overwhelming.
I hope this helps and if you have any questions, let me know!
What personal systems do you have in place that help you streamline life?