Every year the masses set these really awesome and pretty realistic fitness goals that include losing weight or changing their lifestyle to one that's more healthy than what they have now. And then the middle of the year comes and the gyms aren't as busy or you just aren't as motivated. It happens to most of us–myself included. The middle of the year is literally around the corner and it's a perfect time to reassess where you are now and where you want to be so that you can develop a plan to bridge that gap.
fit
10 Tips to Keeping Your Fitness Goals
1. Schedule out a week of workouts on Sunday
Make sure that you decide whether you're working out in the morning, midday, evening and check the weather. All these will determine what workout gear you'll need.
2. Pick out your clothes the night before
If you're working out in the morning, put your clothes on the nightstand or in the bathroom so that's one less thing you have to do when you wake up. If you're not stopping home prior to your sparkle session, make sure everything you need is packed in your gym bag and you put it in the car.
3. Meal plan and grocery shop
This is huge. I know I'm no the only one thinking of my next meal–especially when I workout consistently. Keep those healthy snacks readily accessible so you don't grab something that will derail you.
4. Plan out your water intake
It's ok to have preferences. Do you like drinking from the huge gallon jug? Are straws your thing? Ice water? Doesn't matter. Make sure that you know how you like to get your water in and plan for it.
5. Plan your workouts
One of my favorite things about Life Time is that they have apps for this. If you want to stay home and workout, you can follow one of their videos. If you want to take a class, it syncs with your calendar. And it helps you track your workouts completed too so you know which muscles need some time to relax.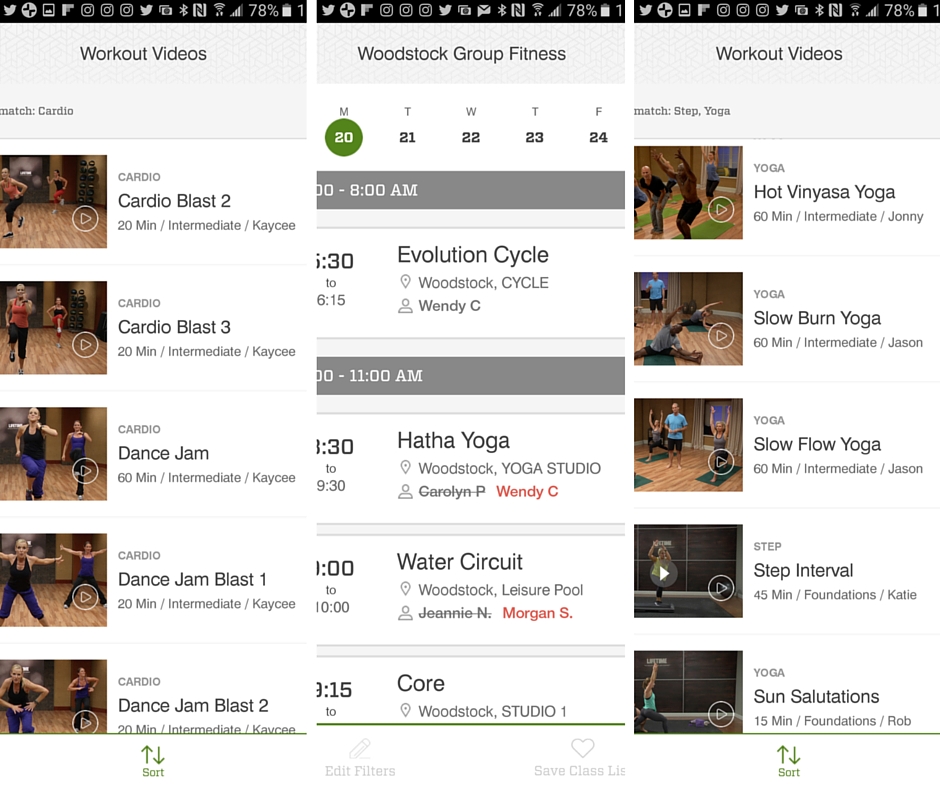 6. Have a workout buddy
Whether this person goes to the gym with you or not, have someone that you share your workouts with that's going to hold you accountable to them and your goals.
7. Plan to relax
Yes, that's right. Relax. Rest. This time is crucial for muscle recovery and development. So often we hear about everyone in "Beast Mode". Well, if you don't relax and repair those muscles won't be ready for the zombie apocalypse. My favorite way to recover is in the sauna and steam room. At Life Time, our steam room smells like eucalyptus and when you leave, you feel like you've had spa treatment!
8. Mix it up
Are you training for a marathon? Snag a spin class or go for a swim. Training for a fitness competition? Get some yoga in there. People get burnt out when things aren't fun or interesting. Be sure to have more than 2 things you do!
9. Join a group
One of my favorite tools is my FitBit. The app has great competitions which has really helped me up my activity level and they have a couple of different apps that you can earn money by hitting your steps goals too!
10. Get help when needed
Not losing weight like you want to? Arms still not strong? Ask for help. I'm an ex-jock and having 2 babies has really made my body crazy. When I wasn't losing weight, I got help from my personal trainer Cedric who told me about the assessments that Life Time offers. I learned a lot about the relationship of heart rate and weight loss that has helped me drop some poundage! But don't get discouraged–get help!
---
60-Day Challenge Update
The Good… The Bad… The Ugly…
Ok, so I haven't weighed-in yet. Womp. Womp. I know. But I'm finishing up the DTOX program and here's what I have to say about it: It works. So I shared on Facebook  when I drank my first shake which was pretty gross. I think chia seeds made for a yucky taste. The day I started the DTOX my body went through a shock. Like I was in the bed and couldn't move or anything. I felt horrible! But since then, I've had waaaaaay more energy and have stopped making the shakes with the chia seeds lol.
My consistency at the gym isn't where I would like it to be though last week I did work out 5 days which I was pretty stoked about though I didn't hit 10k steps on any of those days which tells me that though it's great I'm working out, I need to be more active period.
This begins the third week of the challenge. While it's too late to join me in it, I'll still be sharing what's going on with it! We're focusing on cardio and how to burn fat–just what I need! So naturally my focus is on getting some more cardio training in. Check out the recipes of the week and great workouts too.