**This post is part of a sponsored opportunity with Refreshingly Real. All thoughts and opinions are my own. 
I have a confession: I often forget to take the frozen meat out of the freezer to defrost in time for me to make dinner. I know, what am I thinking, right? Last week I was tired of asking my husband to bring home dinner because I again forgot to take the meat out. So I pulled out this ground feta and basil chicken sausage I'd gotten from Sprouts, put it in some water and it defrosted in about an hour.
Boom. 
Ground meats are some of my fave recipe starters. You can make anything from burgers to meatballs to casseroles in a matter of minutes. This day I decided to make a skillet with the ground sausage by adding in some of our favorite veggies and pairing it with some turmeric rice. 
Yes friends, you read that right! Turmeric rice!
30-Minute Sausage Skillet Recipe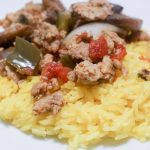 Chicken Sausage Skillet
Need a quick meal that's healthy and easy? Try this super delicious and nutritious meal that incorporates healthy veggies along with a good protien.
Ingredients
1

lb

ground meat

I used a feta cheese and basil ground sausage

1

green pepper

chopped

1

onion

chopped

1

can

petite diced tomatoes

1

cup

mushrooms

2

tbsp

olive oil

2

tsp

pink himalayan salt

garlic & onion seasoning

black pepper

ground rosemary

ground bay leaf
Instructions
Add 1 tablespoon of oil to skillet. Add the mushrooms, peppers and onions.

Season vegetables with salt, garlic & onion, rosemary and bay leaf. Once the onions become translucent pour into separate bowl.

Add 1 tablespoon of oil to skillet and heat.

Add the ground meat chopping it up as it cooks.

Season with salt, pepper, garlic & onion, and bay leaf.

Drain can of tomatoes and add to meat.

Continue cooking for a minute or until meat is just about completely cooked.

Add vegetables back into skillet and simmer covered on low for 5 min.

Pair with your favorite side and enjoy!
Yes, 30-Minutes From Start To Stop!
Cooking while you have 3 kids falling all over the place acting like the didn't just have 13 snacks in between 2 previous meals isn't for the faint of heart. Nor is it time to get that 3-course meal together where you try out new things. Times like this call for quick and dirty methods–emphasis on quick. One of my secrets is in using canned items. Not sure how you feel about canned foods? Check out what I learned on my tour with Refreshingly Real.  
The best part about this is that it's kid-approved! I wish I had taken a picture of my now toddler licking his empty plate. My sometimes picky-eater abc even devoured hers without being persuaded to do so. It's always the meals that you least expect to bring the most joy to your family, right? 
Easy Toasted Turmeric Rice
Do you know how good turmeric is for your body? It's like the most delicious anti-inflammatory in the world. And it made our rice so delicious my husband even made mention of it later–this is quiiiiiite the accomplishment! 
Here's how I make my toasted turmeric rice:
Toasted Turmeric Rice
So easy, yet so delicious!
Ingredients
1

tbsp

olive oil

1

tsp

turmeric

1.5

cups

jasmine rice

1

pinch

pink Himalayan salt

water

enough to cover about .5 inches over the rice
Instructions
Add oil to saucepan and heat.

Add rice, turmeric, and salt to oil and stir for about 2 minutes.

Add water and bring to a boil.

Cover and then reduce heat to low for 15 minutes.

The rice will be done once you see holes in it. Fluff and serve!
Alright friends! Go forth and serve your family deliciousness!
What are some of your favorite quick and easy meals?