Anything made by a Grandma is typically guaranteed to be delicious. My Grandmothers are no longer with us, but my husband still has one of his and she makes the BEST peach cobbler. She may not be from the south where the peaches are always perfect, but she is from the north where Grandma's cobbler is always perfect!
The Peach Cobbler Recipe
I asked her how to make her peach cobbler one summer and she giggled sweetly at me. She said it is the easiest recipe ever and told me on the spot how to make it, in traditional Grandma fashion, but I didn't have the memory (new mom) or a pen and paper to write it down. But my cousin (in-law, technically, but good friend always) knew the recipe so she shared it with me. And now, with summer officially here, I started to crave Grandma's peach cobbler again. But this time, I want to make it.
It Doesn't Have to Be Summer
Grandma uses canned peaches for her cobbler. So the peaches don't have to be fresh or in season to make this dessert. Sometimes I love to have summer desserts in the middle of winter too. I could honestly eat ice cream every.day.of.my.life! But I resist because I don't want to spend 12 hours a day at the gym. So this cobbler is perfect for anytime, summer or winter. But it is truly comfort food. And I LOVE comfort dessert!
Double or Triple the Cobbler
The recipe below is for one 9×13 pan with thin topping of the cobbler crust. Our family enjoys a thicker cobbler crust, so Grandma said to double, or even triple, it. Then you can double or triple the scoops of ice cream too! But really, you can just add whatever amount of peaches you deem the perfect amount. I like to buy the bigger cans of peaches because we go overboard on the peaches, but you can just do a thin peach layer too. FYI: I doubled the recipe! Turned out perfect!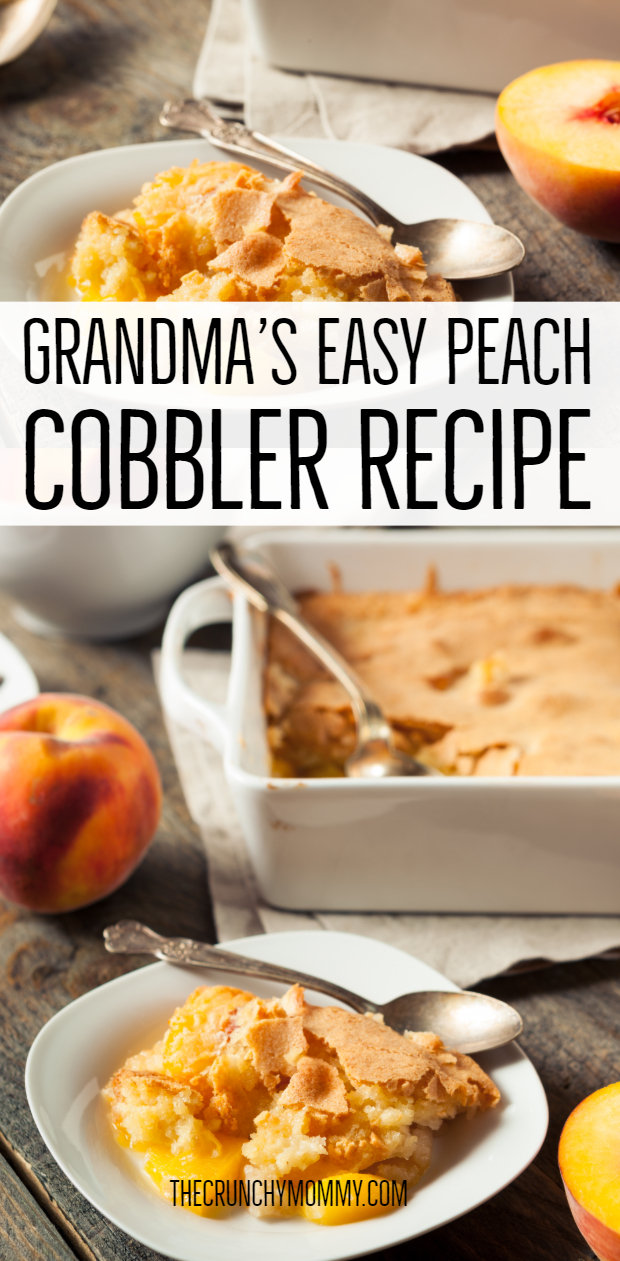 Grandma's Peach Cobbler...from a Can
Not all cobblers have to be made with fresh fruit! Try this peach cobbler using ingredients you probably already have in your pantry, including canned peaches!
Total Time
1
hour
5
minutes
Ingredients
1

cup

sugar

1

cup

flour

1

tsp

baking powder

sprinkle

cinnamon

to taste

sprinkle

brown sugar

to taste

1

egg

1

stick

butter

melted

1

29 oz. can

peaches

strain juice
Instructions
Pre-heat oven to 350 degrees.

Mix all ingredients except peaches until well mixed and crumb like.

Strain the juice from the can of peaches. Pour peaches into the bottom of the 9x13 pan.

Top the peaches with your crumb and drizzle the melted butter on the top.

Bake for 55-65 minutes, depending on how browned you want your topping. Eat warm or cool. Enjoy with a scoop of ice cream!