Having some beers and malt beverages with your buds in the summer is always a good time. Whether you are by the pool or by a fire, sipping your favorite drink is refreshing. This summer, there are some really popular beers and malt beverages that I think you should try. I also want to show you these super cute cups that I have been making and using for my drinks. They are awesome!
Popular Beers and Malt Beverages
These are in no particular order, except just being in the top 10. I want to hear what you think too. Whether you have tried it, like it, don't like it, or you would add something else to the list.
Zima
Truly Sparkling Water
Leinenkugal Summer Shandy
Samuel Adams Summer
Sierra Nevada Summer Fest
Smirnoff Ice Red, White and Berry
Aloha Traveler Pineapple Shandy
21st Hell or High Watermelon
Samuel Adams Porch Rocker
Bud Light Orange
Ideas for Beers and Malt Beverages
Who tried Zima years ago? Don't lie and say you weren't old enough when it first came out! I know you somehow got your hands on it. But did you ever try one with a Jolly Rancher? If not, give it a go! It is so yummy! Check out the Zima website to see where you can get it near you. Remember, it is a limited release so don't wait!
If you are craving a sangria, pick up your favorite Truly Sparkling Water flavor and try out this recipe. It looks so good and another great choice is a boozy fruit salad!
And finally, try the Smirnoff Ice Red, White and Berry in blended ice for a slush-type of drink! To die for!
You can never go wrong with a nice cold beer. So pick up any of the choices above for a refreshing summer taste.
The Perfect Beverage Cup
I make these super cute 12 oz. beverage tumblers with personalization! They are PERFECT for any of these top 10 beer and malt beverage drinks, but also for truly anything. They are stainless steel and double wall insulated so they work with hot and cold beverages. Mine keeps drinks cold for 4+ hours.
There are many color options to choose from!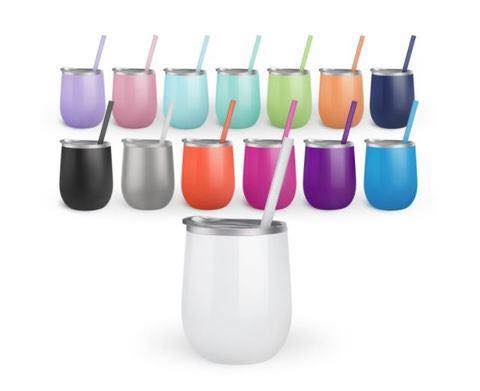 There is also a gorgeous rose gold color, but it does not come with a straw (the other colors do)! And the straw has the extra piece to the bottom so kids can't just pull them straight out! The lids are a simple push on lid. The downside, they aren't dishwasher safe, but what pretty cups are?! Even your fine China isn't dishwasher safe and I am sure it cost a fortune! These cups are only $18 plus shipping!
If you are interested in a tumbler cup, please email me at christinecox0925@gmail.com or message me on Facebook. If I don't have your color preference in stock, please allow 2 weeks for delivery.