I'm still in awe at the damage done to Puerto Rico. I don't know what's worse–the damage done or the lack of response from some. But alas, there are people out there trying to help and I want to make sure that word gets spread. If you're looking to help, here's a list of how to do just that.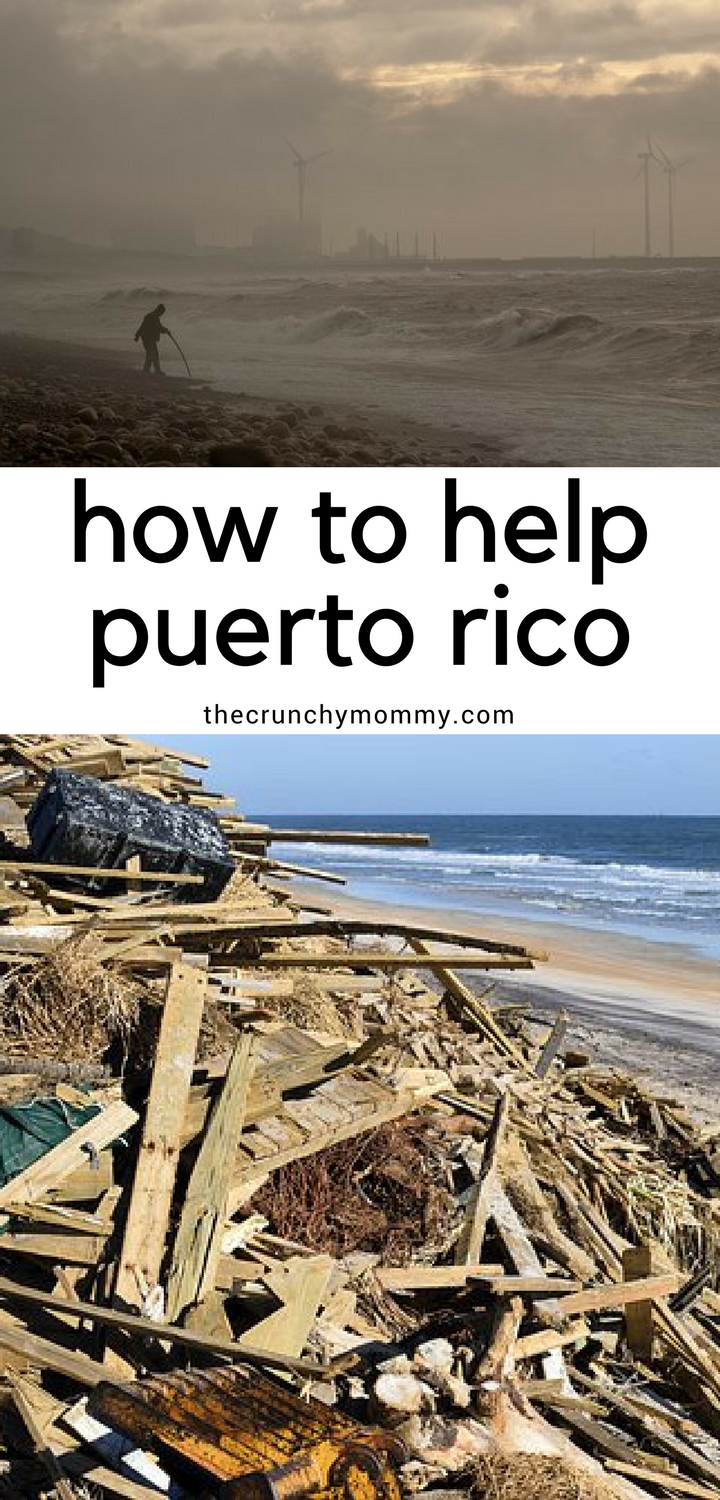 Who's Helping Puerto Rico After the Storm
PRFI Help Now Hurricane Relief
To provide relief for those impacted by hurricane Maria.
P.R.F.I is officially classified and registered with the Internal Revenue Service as a 501 C3 nonprofit organization .
You may also visit our website at www.prfi.org
Week of Compassion
They have long term partners who are on the ground now and will be on the ground long after others have left. When you designate your gift to hurricane victims/clean up, 100% goes directly to the local people, if you give a general gift, 97% goes directly to locals. http://www.weekofcompassion.org/
Porch Light Latin Kitchen
They've been collecting donations and will need help getting the donations to the airport today, October 1st. More details on their Facebook Page.
Raising Money For Recovery of Puerto Rico via LCF Georgia
Funds raised will provide financial support to local organizations in Puerto Rico working on recovery and rebuilding as well as help ship and distribute medical and emergency supplies gathered in Georgia by a collective or business owners and concerned individuals, to families in the island. More info via their Facebook Page.
Walmart.com

For friends in NY wanting to help I have this information too:
Independent Coalitions
Carmelo Anthony Puerto Rico Relief – The Players Tribune
Eco Kit Puerto Rico – Eco Kit Duffle Initiative
Fondos Unidos de Puerto Rico – Fondosunidos.org
Fundación Comunitaria de Puerto Rico – fcpr.org
María: Puerto Rico Real-time Recovery Fund – Conprmetidos.org
Puerto Rico por Puerto Rico – Prxpr.org
Puerto Rico Rises – puertorriquenos.nuevayork@gmail.com – Puerto Rico Rises
Community and Cultural Partners
Coalición Mexicana – CoaliciónMexicana.org – community building
Celebrate Mexico Now Festival – Rise! NY|MX Earthquake Relief for Mexico Benefit Concert – arts and culture
Comité Noviembre – Comiténoviembre.org – community building
Pregones / Teatro Rodante Puertorriqueño – Pregonesprtt.org – Clearing house for artists
Revolución Latina – Hurricane and Earthquake Relief Dance-A-Thon
Voices for Puerto Rico – Voicesforpuertorico.com – arts and culture
There are donation sites around the NY area accepting the priorities that need to be sent over. You can find them here:
ASPIRA of New York, Inc.,
Site #1 – Main Office |15 West 36th Street, NY, NY 10018
Site #2 – P.S.\ I.S. 224 | 345 Brook Avenue, Room 104, Bronx, NY 10455
Note: Aspira's main office is accepting amazon packages.
FDNY
Donations will be accepted during the hours of 7 am – 9 pm. Please be aware that FDNY members at these locations may not be present during drop-off hours if they are responding to an emergency.
Manhattan
Engine 91: 242 E. 111th Street, New York, NY 11220 (East Harlem)
Engine 95/ Ladder 36: 29 Vermilyea Avenue, New York, NY 10033 (Inwood)
Engine 28/ Ladder 11: 222 E. 2nd Street, New York, NY 10009 (Lower East Side)
Bronx
EMS Station 26: 1264 Boston Road, Bronx NY 10456 (Morrisania)
EMS Station 55: 3134 Park Avenue, Bronx, NY 10451 (Melrose)
Engine 64/ Ladder 47: 1214 Castle Hill Avenue, Bronx, NY 10462 (Castle Hill)
Engine 83/ Ladder 29: 618 E. 138th Street, Bronx, NY 10454 (Mott Haven/South Bronx)
Queens
Engine 316: 27-12 Kearney Street, Queens, NY 11369 (East Elmhurst)
Engine 289/ Ladder 138: 97-28 43rd Avenue, Queens, NY 11368 (Corona)
Engine 307/ Ladder 154: 81-17 Northern Boulevard, Queens, NY 11372 (Jackson Heights)
Brooklyn
Engine 271/ Ladder 124: 392 Himrod Street, Brooklyn, NY 11237 (Bushwick)
Engine 277/ Ladder 112: 582 Knickerbocker Avenue, Brooklyn, NY 11221 (Bushwick)
Engine 201/ Ladder 114: 5113 4th Avenue, Brooklyn, NY 11220 ( Sunset Park)
Engine 228: 436 39th Street, Brooklyn, NY 11232 (Sunset Park)
Engine 218: 650 Hart Street, Brooklyn, NY 11221 (Bushwick)
Staten Island
Engine 153/ Ladder 77: 74 Broad Street, Staten Island, NY 10304 (Stapleton)
Engine 157/ Ladder 80: 1573 Castleton Avenue, Staten Island, NY 10302 (Port Richmond)
Ladder 79: 1189 Castleton Avenue, Staten Island, NY 10310 (Port Richmond)
---
The devastation in Puerto Rico is real. If you can help, please do. Puerto Rico has shared updates on what's going on there as well as a list of the things they really need here. The Fourth Trimester Box has set up a discounted box that will be sent to new moms and babies there as well. You can purchase these here. Once the roads are cleared and things are more stable, they'll need volunteers to help them put things back together. If you're able to do that, there are places you can team up with and they can be found here.
If you know of more efforts, please drop a comment below as this post will be updated often.