This is a sponsored post on behalf of Coombs Family Farm. All thoughts, opinions, and recipe are my own. For more details on what this means, read here.
Chicken and waffles is such a popular dish to eat. It's one that I grew up loving after my parents introduced it to me. Because I like to remix recipes, I started making my kids chicken IN waffles instead of them a side by side thing. And then after having cheese and chives in my waffles during a trip to Orlando, this month I took the remix a little further by adding some cheese too!
Jump to Recipe
Sunday's Are For Family Brunch
Homeschooling with 3 while working doesn't leave me with a lot of time by myself or to hang with my husband so we've reserved Sunday as our family days. These are the days that you can find us cooking brunch together while laughing and having a good time before heading to church. Mini is really into cooking (thank goodness!) so this time has really turned into something that she and I do for the family while they clean or lounge.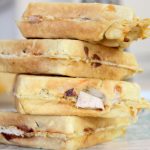 Chicken In Waffle Recipe
This is an easy recipe perfect for Sunday brunch or breakfast for dinner!
Ingredients
2

cups

pancake/waffle mix

We use Whole Foods Buttermilk Mix so all ingredients will be specific to this product

4

tbsp

melted butter

yes, the real stuff

2

tbsp

Coombs Maple Syrup

1.5

cups

almond milk

2

eggs

1

cup

chopped chicken

Ours were leftover parmesan crusted oven fried chicken

1

cup

shredded cheese
Instructions
Chop chicken so that there are small chunks and set aside.

Mix the waffle mix, milk, butter, eggs and maple syrup together creating a smooth batter.

Fold both the chicken and the cheese into the waffle batter.

Top with Coombs Maple Syrup and enjoy!
The Difference of Coombs Organic Maple Syrup
Did you know that maple syrup is good for you?
Ok… Maybe not in the same way that eating a salad is good for your health but there are some nutrients and minerals in there that offset some of the sugars present.
Not all maple syrups are made the same or offer a great output. I'm somewhat of a maple syrup connoisseur which is why when I tasted Coombs Organic Maple Syrup I knew it was something that I could support on the regular. Yes, maple syrup is pure but there's a difference in being pure and organic.
Coombs Maple Syrups are certified organic by the Quality Assurance International (QAI) AND the USDA–yes, they are overachievers! When I toured the Organic Valley farms, I learned about the process for farms to become organic–this is not an easy or cheap process to say the least.
This view here is what makes a difference to me as both a consumer and someone who is committed to the sustainability of the Earth. I really love how committed they are to making sure that how they maintain their trees and land makes a greater impact than "just" producing maple syrup–kudos to them!
We're Heading To Vermont To Learn About the Process Ourselves!
I'm so excited about this. Seriously. I LOVE hands on learning and couldn't be more excited to share this experience with my family. I've known we were going for a couple weeks but we just told them. Check out the video below and follow the hashtag #tcmxcoombs to see what we get into while we're there!
Locate where to buy some Coombs Organic Maple Syrup by clicking here.