Fall is in the air and with that comes fall fun like apple picking, corn mazes, hay rides, bonfires and fun festivals. As a NY Apple gone GA Peach, one of the activities that I was always worried about doing with my kids was apple picking. I still have all the fond memories of going to the apple orchards with my family and then the fun that we did with whatever apples made it back uneaten. Now that abc is old enough I'm looking forward to creating the memories with apple picking in Georgia!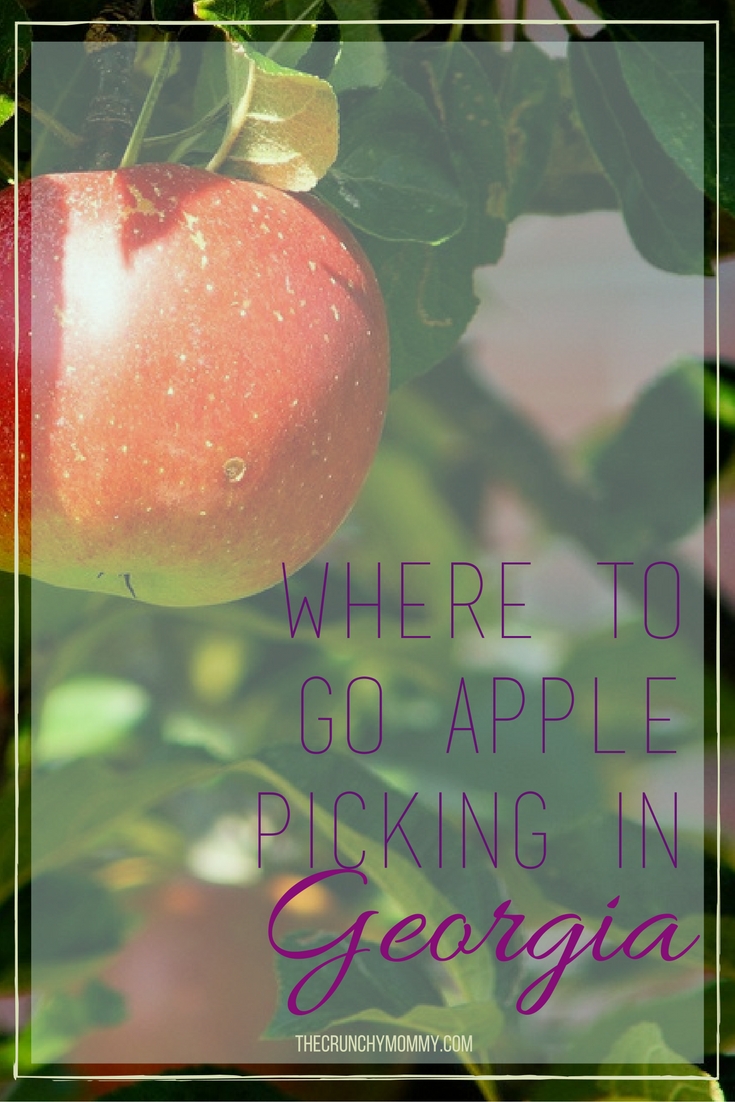 Where To Go Apple Picking In Georgia
Because I'm not the only one looking for fall fun with my kids, I know that you guys will love this list here but fair warning—be prepared to drive!
Hillcrest Orchards
9696 Hwy 52 East, Ellijay, GA
www.hillcrestorchards.net
706.273.3838
Weekends in Sept & Oct 9am – 6pm
Offers an 'Apple Pickin Jubilee' on the weekends that includes milking a cow, swimming pig races, petting farm, wagon rides, mini gold, playground, apple tree maze (new), and pony rides. Features 7 varieties of apples.
Fees:
$10 with apple picking bags
$6 half peck
$9 full beck
$14 half a bushel
B.J. Reece Apple House
9131 Hwy 52 East, Ellijay, GA
www.reeceorchards.com
706.276.3048
Sept. 1 – Oct. 31, Mon – Sat 9am – 6pm; Sun 1-6pm
Pick your own apples from the tree! Taste the ones that you love first before going out into the orchard. Features Gala, Red, Granny Smith and more.
Fees:
$2 weekday admission
$5 weekend admission
$7 half peck
$18 half bushel
Red Apple Barn
3379 Tailscreek Rd., Ellijay, GA
www.redapplebarn.com
706.635.5898
Weekends Sept & Oct, Sat 10:30am-5pm; Sun 1-4pm
Offers a tractor ride to the orchards with a tour of the farm, apple picking from the orchard, a cup of cold cider and apple cider donut in the admission fee.
Fees: **3 & younger free
$7 admission
$4 for a quarter peck
$6 half peck
$12 full peck
Mercier Orchards
8660 Blue Ridge Dr., Blue Ridge, GA
www.mercier-orchards.com
706.632.3411
Weekends Sept & Oct 10am – 4pm
This is the largest orchard in the state and has a DIY apple picking experience that starts with a tractor ride to the orchards and a brief talk about the history. Apples featured are Gala, Blonde, and Golden Supreme.
Fees:
$4 Tractor Ride
$12 peck pf apples
$6 half peck
R&A Orchard
5505 Hwy 52 East, Ellijay, GA
www.randaorchards.com
706.273.3821
Weekends in Sept 9am-6pm
Walk or take a wagon to the orchard (get those steps in!). Pay only for the apples that you pick. Features Granny Smith, Rome Beauty, Fuji, and Golden Delicious. Call ahead to make a reservation.
Even if you're not into picking apples, these orchards look like they'll be lots of family fun!
Which orchard do you think you'll find yourself at this fall?