Every day I wake up, I'm excited that I'm married to my husband. I know, cheesy right? But it's the truth. I love being married to him and I really love my role as wife. As much as I do, there are MANY days that I wish we were both more romantic with each other. We have a pretty easy marriage and I have no complaints. I'm one of those women who believe that my husband and marriage come before my children. I love being a mom and that role is life-long but so is my role as wife.
I wouldn't say that I'm failing as role of wife, but I do feel like I could be doing better. As a mom of 2 that's building an empire from scratch, time is limited to nurturing one of my favorite roles. One of my goals for the end of the year is to put my marriage at the forefront of my focus. My husband is my biggest supporter, best friend, and more and I want him to know how much I honor our love. I know that I'm not alone in this so I'm sharing some of the ideas that I have to show my husband just how much I love him (with any luck he'll read this and reciprocate—not the goal but a bonus!).
52 Romantic Gestures To Show Your Love
-1. Mail a card or letter to your SO expressing your feelings. Follow this up by sending them another note asking them out on a date.-
-2. Learn what your SO thinks is romantic instead of doing what you think is romantic. Ask them question, look for clues, listen to things they say or aren't saying.-
-3. Get up early and watch the sunrise together.-
-4. Do they write you love notes? Frame
your favorite and display it on your nightstand.-
-5. **For Him: When the two of you go shopping together, treat her to something she would love to have but is too practical to purchase. Splurge.-
-6. Did you know the longest night of the year is December 21st? Spend that night together on a super romantic date.-
-7. Compliment her in front of her friends and family.-
-8. When your SO is too busy to go out or cook, bring home dinner no questions asked.-
-9. Plan little surprises for each other throughout the year. Don't just be romantic around Valentine's Day.-
-10. Work harder on your love life than you do your career. Yes, I said it. Your entire life will improve when your love life improves.-

-11. Seal all your love letters with a kiss
—literally. Kiss the paper and then spray it with your scent.-
-12. Spend the weekend taking candid pictures of each other and then have the framed.-
-13. Set your alarm
clock for 15 minutes earlier than you need to get up. Wake them up with snuggles or more…–
-14. Buy a fire pit
and use it. Light up a fire outside and watch the stars, talk, snuggle, make s'mores (my favorite).-
-15. Don't only be romantic on the weekends. This is an every day of the week type of deal.-
-16. Compliment each other often.-
-17. Send a little romantic memento after a special date. Make sure that you reference something special that happened on the date.-
-18. Fill up their tank with gas and leave a treat in the car.-
-19. Touch each other often throughout the day.-
-20. Always be happy to see your SO even after a hard day at work or with the kids.-
-21. Learn to love yourself so that you can truly be lovable to your SO.-
-22. Surprise them with a lunch date or bring them lunch.-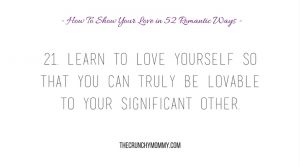 -23. Give them books about their hobbies and interests to show that you support their other loves.-
-24. Kiss them awake in the morning. There's nothing like locking lips with your love first thing!-
-25. Don't be shy—give your SO hints on what's important to you in the romance department.-
-26. Help them with something that they feel is important. There's nothing more romantic than feeling like your SO cares about what's important to you.-
-27. Talk to each other about how they define and receive love. Familiar with the 5 Love Languages? Get familiar with it
!-
-28. Write down 2 good things about your SO every week for an entire year then give it to them.-
-29. Schedule your romantic time. The busier you are, the more you'll need to maximize on planning.-
-30. Act on romantic whims. Be cheesy.-
-31. Bring home a warm box of Krispy Kreme doughnuts and surprise your SO with them.-
-32. Tell your SO that you love them randomly and often. We all need to hear those words often.-
-33. Kiss tenderly and slowly. Use a little tongue wink wink.-
-34. Leave work early and arrange a clandestine meeting with your honey.-
-35. Keep your family and friends from meddling in your relationship.-
-36. PDA! Keep it appropriate but show some love in public!-
-37. Celebrate Sweetest Day in October—October 15.-
-38. Ask your SO to name their favorite movie love scene and try to re-create it.-
-39. Spoil them silly for an entire week/month/day.-
-40. Be outrageous in the romance department from time to time. Surprises really do work wonders!-
-41. Exercise together. Not only does it make things more enjoyable but you get healthy together.-
-43. *For Her: Write a little message on the bathroom mirror in lipstick
.-
-44. Place a menu from a restaurant you want to try out on their windshield with a note to meet you there for dinner.-
-45. Play an adult version of hide and go seek or tag.-
-46. Have a dance off with "Just Dance
".-
-47. Just kiss for a whole night.-
-48. This is going to sound obvious but so many of us forget this when we get caught up adulting: Have fun together. Laugh often. Plan activities you both enjoy.-

-49. Take over for them at home with the chores and children.-
-50. Call or text during the day just to say, "Hi."-
-51. Be each other's best friends. Note that I didn't say only friends.-
-52. Strive to keep your relationship as tear-free as possible. Love should make you feel good, not sad.-
As I share these with you all, I'm pretty excited to get started on infusing some more romance in our marriage.
Would you add any romantic acts here? Have you tried one and want to share some of your results? Comment below!