When I was in high school, my mom drove the Mitsubishi Galant. I loooooooved this car. It was burgundy and sleek (for that time ha!) and it was what I learned how to drive in. One day as I was driving to school, I was hit and the car was totaled. Thankfully, I was okay but ever since then, I loved Mitsubishi. I thought my first car was going to be the Spyder (remember those sporty things??). My first car wasn't a Mitsubishi but after driving the 2016 Mitsubishi Outlander, I'm rethinking my choices in cars.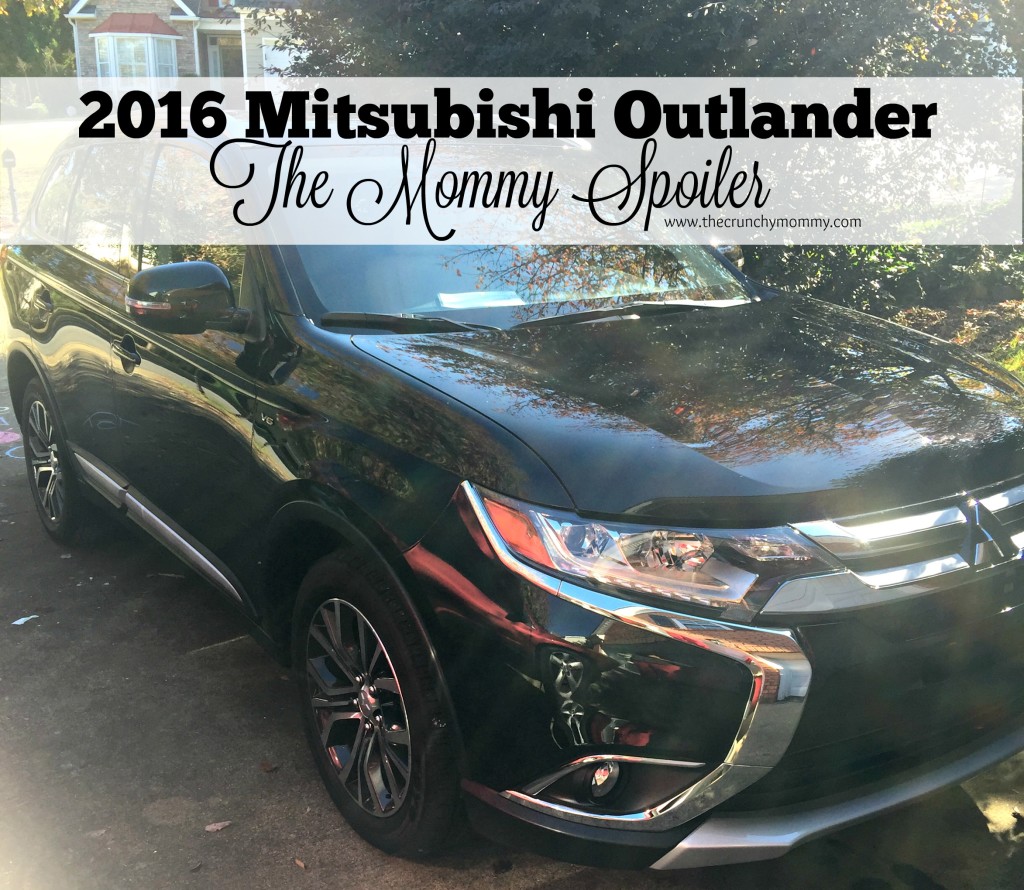 When I was at the SoFabUOTR Conference, I had the pleasure of meeting Josh with DriveShopUSA and they were kind enough to let me whip this beauty around for a week. I named her Onyx since she was a beautiful, black car (yes, I name cars and refer to them as he/she ha!). I'd never been in and Outlander before so I didn't really know what to expect. Right now I drive a crossover vehicle and I like the sizing–bigger than a sedan but not quite an SUV–and the Outlander was the same size.
While they are the same size on the outside, Mitsubishi's use of the space was genius. It offers:
Third Row Seating
Backseats that recline as well as slide forward and back
An insane amount of trunk space
These 3 features are soooooo important to me as a mom because I need space–like a lot. Between groceries, jogging stroller, random things being tossed in the car, space is a huge factor. For one of mini's school breaks, we drove from Atlanta to Myrtle Beach to Orlando and then back. One of her main complaints was in not being able to recline so that she could comfortably relax in the car. She's in an uncomfortable booster seat and I can totally agree that those things are NOT conducive to sleeping in the car. And third row seating?!? Yes please. We aren't done growing our family yet (no, I'm not pregnant) but I don't want to have to a huge car to accommodate my family. I literally shudder at the thought of HAVING to move into a minivan!!!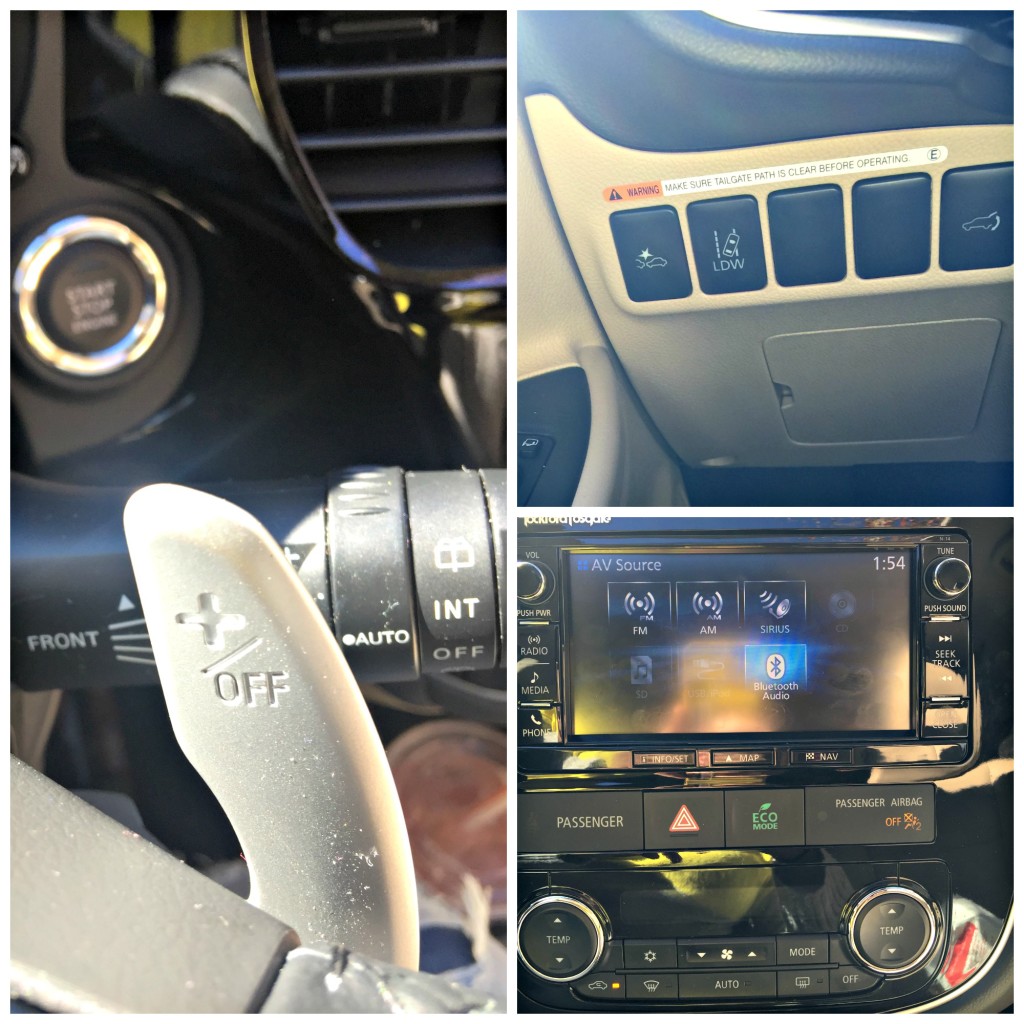 Pros (outside of the above mentioned):
Satellite radio — I could listen to age appropriate music with mini without having to use my data
HD radio — music is important to us ha!
Reverse Video Camera — the display is so big that it makes reversing super easy
Automatic Windshield Wipers — as soon as a drop hit the car, these babies were wiping it away
Automatic everything basically — I didn't have to do too much thinking as I was driving
Lane Depart Alert — it yelled at me if I started to veer out of my lane or changed lanes without signaling
Time to Brake — if it sensed that I wasn't slowing fast enough then it would signal to me to brake
Gas — I went an entire week (including weekend) of driving on one full tank of gas
Moonroof — this baby was pretty much the length of the car and the girls LOVED this feature!
It was so quiet — the kids (both) fell asleep in about 5 minutes of riding this baby. Favorite feature by far!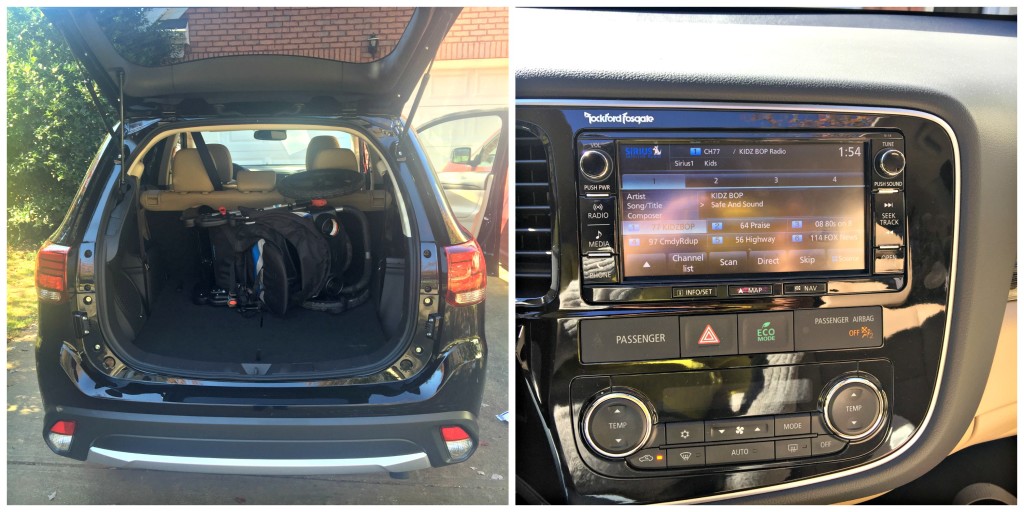 Cons:
There were some features that were redundant — why do I need multiple places to adjust the car temperature?
Every time I closed my door it never shut properly — petty? Maybe. But definitely an inconvenience.
I LOVED this car and would definitely recommend this for anyone looking to grow their families and not the size of their vehicles. No shade, but minivans aren't for everyone! Now that I'm not driving it anymore, I miss not having to turn on my windshield wipers myself!!! I got sooooo spoiled by all the bells and whistles!
What do you think of cross-over vehicles?
Disclosure: Through Drive Shop, I was given this car for a week to test drive. All opinions are my own.