If there were a manual for this parenting gig, it would include a chapter on becoming the mom of a child in sports—yes, a sports mom. Growing up, my mom kept us involved in all sorts of activities. I was a competitive swimmer growing up and loved having the connection to my team. I also played tennis, basketball, softball, and did Tae Kwon Do. Yeah, my mom kept us busy!
Even though I grew up playing sports, I wasn't full ready for what being a mom of a kid in sports meant. There were so many details that I didn't know about and still don't that I'm sitting here taking notes on how to better so that I don't look like the unprepared mom who doesn't have it together. But as you guys know, as I learn something, I share because I care and don't want you guys out there looking silly too.
So here are some tips to becoming a sports mom that I've learned thus far:
Pay Attention To ALL The Little Details
After I had mini, I became a runner. She was my biggest cheerleader and as she got older, she would run in the little kiddie races. Now that she's of age for some competitive sports, I was excited to get her into track. So I consulted Google and looked up where we could get her started in the area. We enrolled and the website said that practices were Saturday mornings at 10am. And they are. In addition to Monday, Tuesday and Thursdays from 6pm to 8pm. WOMP!
I was so not prepared when I got the mass text preparing us for the first practice. That's also when I learned that we were running cross-country. I had NO clue what that meant but what I learned in that moment was that it meant that we would be running for 2 hours every practice. TWO HOURS of running. Yes. sigh The more you know.
Snack Like You Mean It
And by you I mean they because the snack brigade is real. I bring abc to practices with me and we're out there running with them (because mama has goals!). I thought I was doing well by making sure that everyone had a snack. Until I met another mother who came out there with a cooler full of snacks that abc consistently attacks. And she has all the good snacks too—apple slices with honey (to prevent browning), cheese and grapes, Goldfish. She's had practice before and has properly schooled me on the snacking ways of the athletes!
Pack snacks like you mean it. Get some protein bars, bananas, and apples. Make sure you're prepared to feed the masses just in case abc's doppelganger is around and attacks your snacks as well!
Be Prepared For Them NOT To Be Excited
Every day we arrive at practice mini is excited. Every day towards almost the end of practice, she's over it and no longer wants to run track—until we had her first week. But at first I didn't know how to deal with her lack of excitement. I didn't realize that because it was hard on her physically, mentally she was checking out. Which is the other reason that I run with her. Getting back into running is so hard for me—especially with TimeHop reminding me that this time 4 years ago I was running 9 miles while pushing a stroller and that's not where I am now. But I push her the same way I push myself through positive reinforcement.
Mini is 6 and though she's a natural runner, she's not going to jump up one day and run 6 minute miles. We celebrate every little thing that she does great whether it's her positive attitude or her not stopping. She's had her first meet and now has bitten by the excitement of it all which is awesome.
Be Confident For Them
This can be tough given our own issues as moms, humans, etc. But something that I learned from my mom is to have faith in my kids no matter what. Whenever I feel anything but happy and confident, I rock red—it's my power color. Many times you'll catch me on Snapchat working out with a strong red lippie and it's because I feel better about life when I'm wearing it. Well, it just so happens that as we kicked off the track season, I was testing out the new 2016 Mazda CX-9 which was incredible. It was a beautiful, bright ruby red and offered me the "zoom zoom" power I needed as I raced through traffic to pick mini up from school to head to practice.
My Favorite Features
Size: I actually love the Mazda's but they've either just fit my family or been too snug. This one fit PERFECTLY. I pick up another little girl after school and they all fit comfortably in the 3rd row seating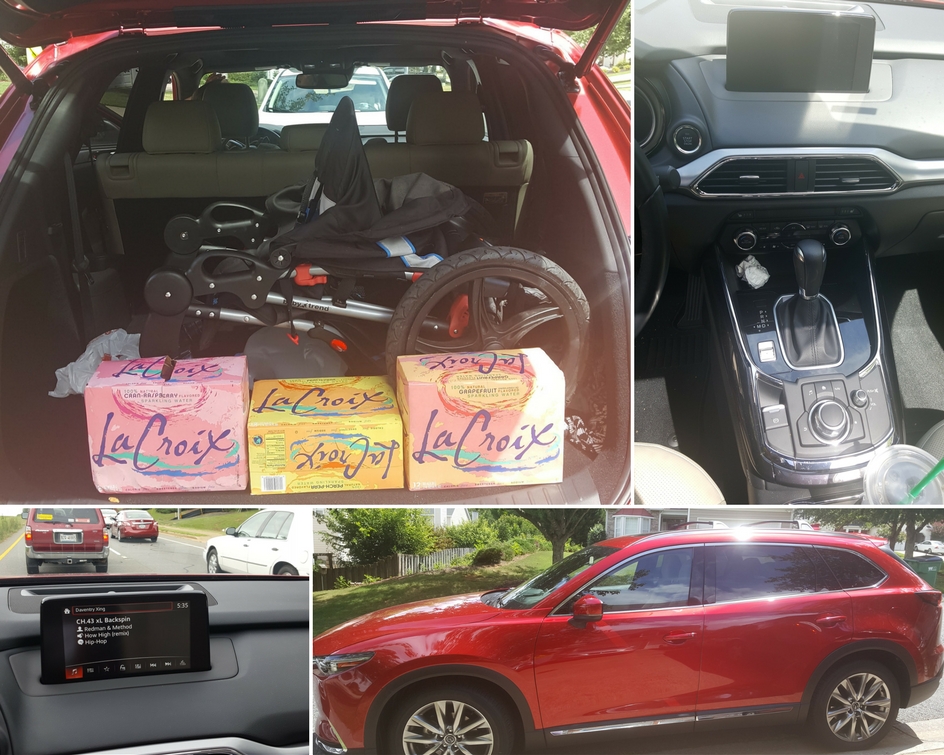 Sport Mode: I was able to get some great speed and quickly as needed in the sport mode. This definitely lowered the anxiety levels at arriving late!
Speed View on the Window: Instead of having a little screen pop up to see my speed, it now projects onto the window which I love. Even though I'm typically in a rush to get to practice, I'm not out here trying to break the laws! Having this feature eye-level makes it easier for me to keep my "zoom zoom" within the speed limit
Design: The sleek design of this vehicle is truly beautiful. I felt so confident as I drove up and dropped my mini off for her first track practice!

This is typically where I would insert the features I didn't love as much but there seriously were none. Mazda gave me security and confidence so that I could be 100% present for my baby as we embark on a new journey in sports!
Are you a sports mom? What tips do you have to add here?
**Disclaimer: I received a complimentary week with the 2016 Mazda CX-9 in exchange for a review. All thoughts and opinions expressed are my own.**