This is a sponsored post on behalf of Red Gold Tomatoes. All thoughts and opinions are my own.
Growing up, I'm pretty sure that all of my mom's meals were my favorite. Now as a mom myself, many of these recipes are in my arsenal to feed my own family.
One of my favorite meals that my mom would make is her pot roast. She would only make it in the cooler months because she would leave our stove on pretty much all day in order to cook it. In our home growing up, we didn't have central air or air conditioning period so cooking this in the summer months just wasn't feasible. Plus, there's nothing like the hearty root vegetables to fill you up and keep you that way.
The winter is meant for storing fats, right?
Jump to Recipe
Memories With My Mom
I loved when my mom would let me help her in the kitchen. She was always such a good cook and I always thought that if I could just help, maybe it would rub off on me. When it came time to make the pot roast, my job was always peeling the carrots, cutting the onions and getting the potatoes ready.
As much as I loved the act of cooking with my mom, it was really the time spent with her that impacted me most. The longer the meal, the longer time I got with her alone and this meal takes a bit of time. We would talk about school and sports and things going on in our lives. Cooking was something that we used to bond over.
Making Memories As A Mom

Now as a mom, I use this time to bond with my kids too. Mini loves cooking and already has many meals perfected. Abc is just getting interested but I love having her in the kitchen with me. It's pretty much the only time she does great first time listening and she has a certain ease about her. She opens up to me with everything going on in her little four-year old brain–which is quite a lot!
Family is so important to me and providing them with healthy meals is something I pride myself on which is why I'm rather picky about the ingredients we use. This meal is made with organic ingredients and is still rather cost-efficient while high in flavor.
Ingredients Matter

Last year I had the opportunity to tour the Red Gold canning facility after visiting one of their farms. It was there that I saw the difference in the quality product that they create versus others. While I do really like to eat organic, what I love about their products is that they are grown, picked and handled in such an eco-friendly way that eating non-organic with them is similar to eating organic! Knowing that I'm providing my family with high quality foods without breaking the bank is comforting for both my spirit and pockets. For this recipe, I used Red Gold Tomatoes because the quality of ingredients really does make a difference in the taste.
While visiting, I saw them do what they call the Red Gold Challenge. On the screen, they showed us the difference and gave us the opportunity to see it for ourselves by sending us the kit to do it ourselves. Friends, the difference is so obvious. I opened the "other" can of tomatoes and there was maybe one to two that were whole. When I opened the Red Gold can, the difference was uncanny (see what I did there?). Red Gold had ALL full, plump tomatoes that looked fresh. Brands make a difference friends, they make a big difference.
For this specific recipe, I love the freshness that the acidity from the tomatoes adds to the dish. This isn't a fresh flavor that comes with just any canned good either. This is the freshness that comes with a high quality product–one that Red Gold consistently prides itself on and I appreciate having.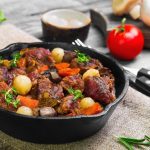 The Crunchy Mommy's Pot Roast
When you think of comfort food, what comes to mind? I always think of one of my favorite recipes my mom made us growing up–Pot Roast!
Cook Time
5
hours
20
minutes
Total Time
5
hours
40
minutes
Ingredients
2

lbs

Beef

2

Carrots

1

Onion

1

can Red Gold Diced Tomatoes 1 Sweet Potato

diced

2

tblsp garlic

2

tbsp

olive oil

Salt

Pepper

Smokey Paprika
Instructions
Create a dry rub with the seasoning. Use salt, pepper and paprika to taste and based on health.

Rub seasonings onto meat.

Peel carrots. Put in food processor and process until it's pulpy. Put into a bowl.

Chop onion and put into food processor until pulpy. Put into bowl with carrots.

Mix up the carrot and onion mixture. Coat the meat with it.

Refrigerate for 20 minutes.

Preheat oven to 200.

In a cast iron skillet or dutch oven, heat olive oil with garlic.

Brown the meat evenly for 5 minutes. **Note: The carrot and onion mixture may fall off and that's ok.

10. Cover the entire cast iron skillet with aluminum foil. Put into oven.

11. Bake for 5 hours.

12. Peel and dice the sweet potato.

13. Put the sweet potato inside the skillet and tomatoes on top. Recover.

14. Bake for an additional hour.

15. Pull out of the oven and the roast will now be able to be pulled apart with 2 forks to shred.
This pairs perfectly with gravy and rice!
So your turn: when you think of delicious, comfort foods, what comes to mind? What ingredients can you upgrade to make it even better?