Three journals later, I'm still using my bullet journal and loving it! Last year I should have done this but with a new baby and still trying to figure out homeschool life, I didn't but I finally have. Have what? I've set up a homeschool bullet journal! I knew that I wanted to have a homeschool planner but we follow a more eclectic style and I couldn't find something that met both my needs and their needs so I created one.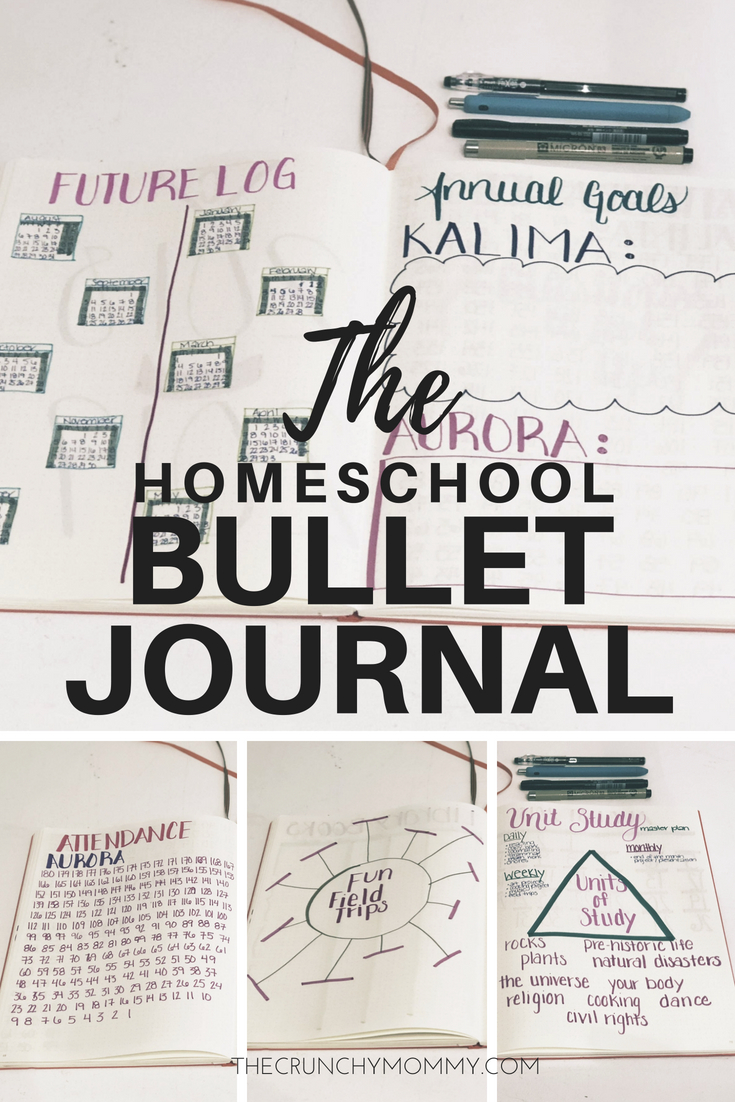 My Homeschool Bullet Journal Set Up
Ok so let's just jump right to it. One of the things that was lacking in all of the homeschool planners that I'd seen was a space for me to really plan out lessons and activities. Like in depth. So I made sure to include that here.
Future Log & Annual Goals
The future log is pretty standard in any planner–not just bullet journals. But the annual goals is something that I've done with Mini since we started homeschooling. One of my goals in homeschooling is to create learners that really want to learn and understand that THEY have the control over their learning. We set up goals that she has for herself as well as my goals that I have for her. This is abc's first time doing this and I'm interested to see what her goals are for the year.
Attendance Records and Questions to Look Up
We've never taken attendance in the past but this is something that I want to do for myself. Plus, I'm also a believer that you can never have too many records. With this, I can check off the days that they've done schoolwork just to make sure that we're in line with the state standards should we ever decide to re-enroll them in school . Also: while I know a lot, Mini does tend to ask questions I need to look up and sometimes I forget! This will serve as a space for me to keep up with those questions.
Our Routine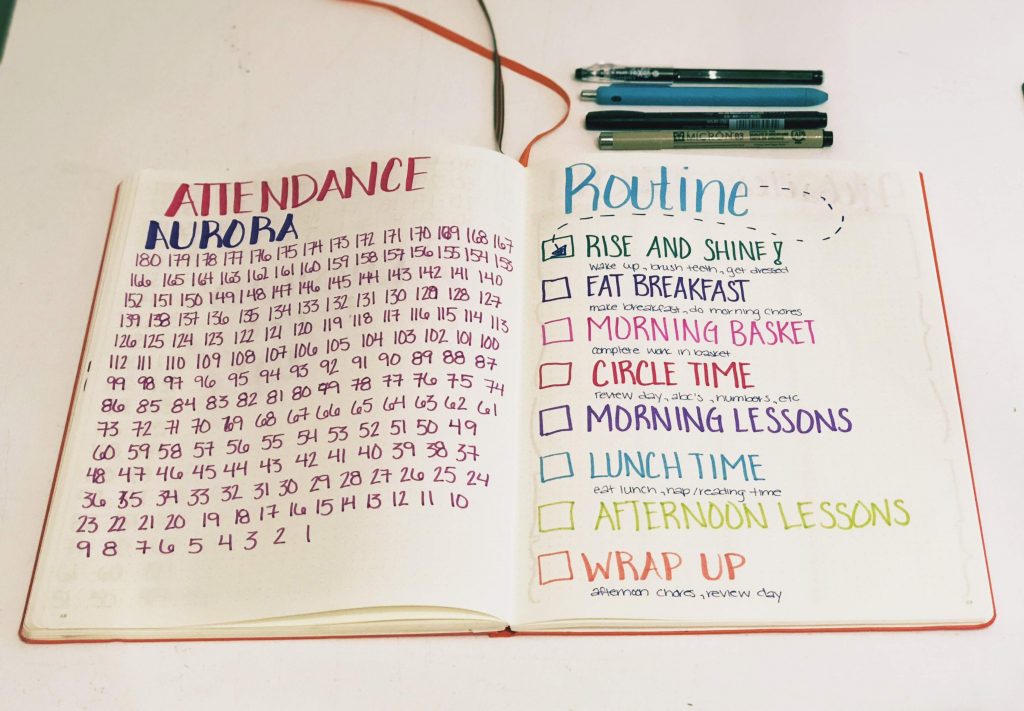 While I wish we were that family that followed schedules, the reality is that's just not us! But routines? Yes, I'm all for that. I generally let them get up when they want to so this will be something for them to do whenever it is they wake up.
Website & Library Book Tracker
I tend to stumble upon really awesome resources for learning on websites but often lose them in the thousands of bookmarks that I have. This is a space for me to keep track of those along with the standard ones we use. I love education.com and ixl.com–we use both of these sites regularly. Also, one of the things I need to do better with is tracking our library books as well as using the library as a resource for our learning. This is to track both library books we've taken out and the ones we may need to borrow for our learning.
Fun Field Trips & Curriculums
I'll be brainstorming the field trips with the girls but this area will serve as our master list. I want to have this in one area so that I can prepare learning items for them prior to us going. The trouble with having a 3/4th grader and a preschooler is they can't use the same materials! So I need to either scour Pinterest for some pre-made materials geared toward each of them or I make them up myself. I haven't decided on just one curriculum for all of their subjects so this is to track what we're using as well as how I think they're doing with it.
Reading Log & Unit Study Outline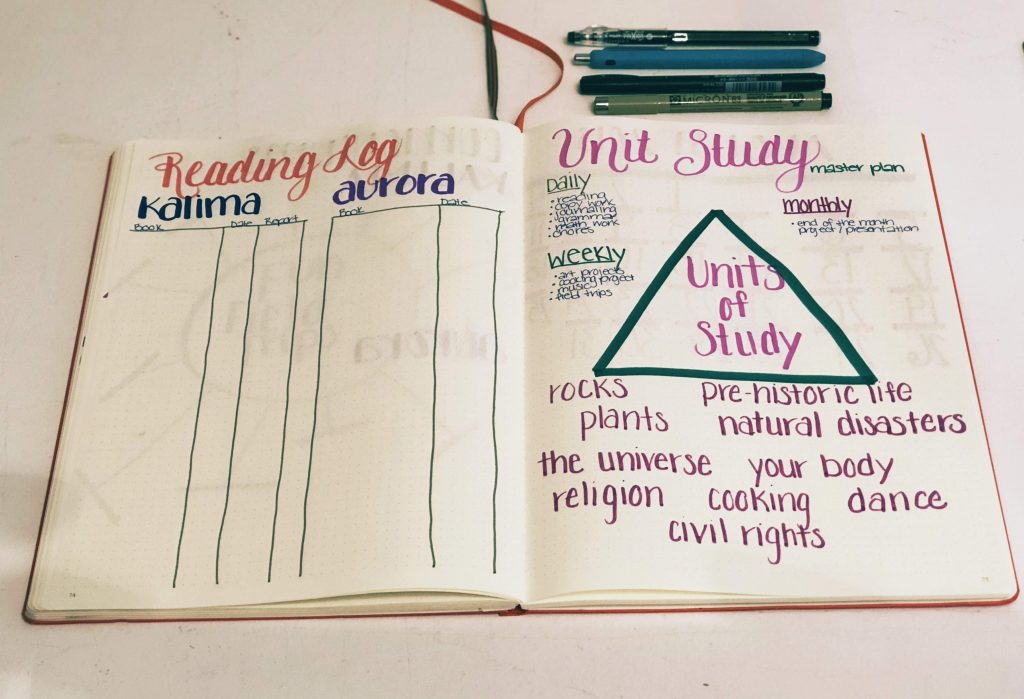 I'll be talking about how I set up our unit studies and why we chose that in another post but Mini and I have already talked about some of the topics she wanted to study and I filled in the rest. And this reading log is just to track the books that we've read as well as book reports completed. They may earn something at the end of the school year–maybe.
Monthly/Weekly Layout
This area is super big for me. This is what I needed in a planner to flush out my ideas for the week/month and the prep work to make it happen.
Now that I've set up our planner, I feel ready to rock our year out!!!
What type of planner do you use for your homeschool plans?
Materials: