Returning to working out after having babies has always been a double-edged sword. On the one hand, it's like burning double the amount of calories. On the other hand, the amount of sweat that I have is pretty gross. But I've found a couple of must-haves for nursing moms that make the transition into working out much easier.
4 Must-Haves For Nursing Moms Working Out
New Sneakers
So this isn't really specific for nursing moms which is why this is first. BUT it's important to not that your feet will likely grow with pregnancy so your old workout sneakers may not fit. Before my first child, I was an 8.5/9. Now? Your girl is rocking a 10/10.5–I even have a pair of 11's for good measure.
Instead of squeezing your feet into shoes that are no longer meant for your toes, get re-fitted and workout in comfort. After fittings, I normally grab some new kicks from Joe's New Balance Outlet. I got these here on their Daily Deal for like $29.99!!!
A Nursing Friendly Sports Bra
Listen friends, this right here is incredibly important. Between you and me (and the rest of the world wide web reading this), I may or may not have gotten stuck in a sports bra while trying to put myself together after nursing BC post a sweat sesh. After dealing with the momentary claustrophobia, I decided something had to give so this right here? A definite must-have for nursing moms.
I'm wearing the Downbeat Nursing Bra by Koral in a size Large. I love this because even after I'm done nursing, I can still get away with wearing it. Not only does it have really great comfort and function, but how cute is this? You guys just wait until I take some pictures of this dope bra with some results! My favorite thing? It's so comfortable. I didn't want to rip it off after a couple hours.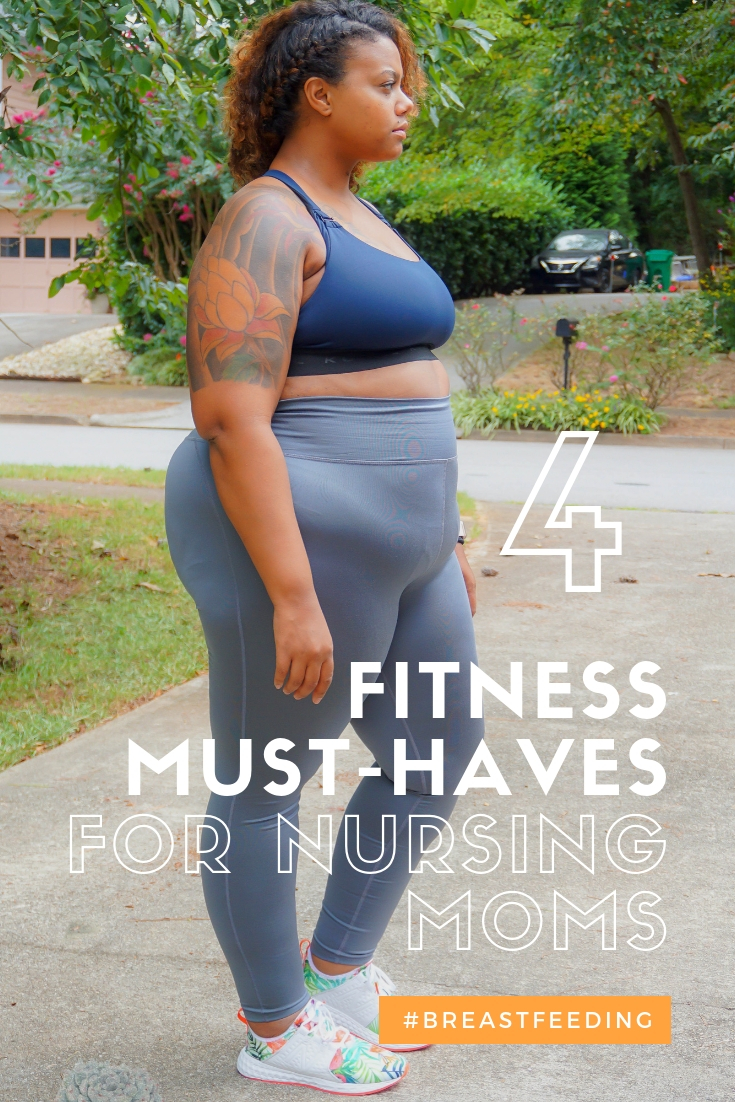 A Tulip Workout Shirt
I'm pretty obsessed with all things tulip hemmed right now. I ordered this shirt from JustFab.com and now I want a thousand more of them–seriously. Not only is it super cute, the fabric they used is so soft. But this shirt also makes both working out and nursing baby a breeze!
An Aluminum or Glass Water Bottle
Friends, do you know how bad plastic water bottles are? Well, they are. But it's imperative that as nursing moms who are working out we take in all the water so that it doesn't affect the amount of milk we're producing. Depending on how much you sweat, this may be multiple trips to the water fountain to fill up. Drink up boo, drink up.
I should add this as a number but I'm not. The most important thing that you need to have is grace with yourself when returning to working out. This part is the hardest for me. I used to be a legit runner and just walking was hard for me. If you aren't able to jump back into your normal workouts right way, that's ok. Walk before you run and remember that fitness is a journey, not a destination.
What are some of your must-haves for nursing moms when returning to working out?