I want to start off by saying that I'm in a really good place now. But 2.5 years ago, that's not what I was saying and that was really hard for me. It felt like everyone around me was moving forward while I was treading water and barely keeping my head high enough to breathe. But now I'm in a different space and I feel like it's time for a life update because life has been life-ing.
These are my life updates in no particular order.
I Loc'd My Hair
In June of 2021, we made the decision to loc abc's hair. She has beautiful coils that she was struggling to style herself and I could see the frustration in her beautiful little face. We watched video after video of these beautiful people with locs and she made the decision to loc her hair. I've always wanted to loc my hair too so I joined her!
Because of my hair texture and my scalp issues, I went with the instant loc method that uses a crochet tool. It took HOURS to get my hair retwisted and it was super expensive. For someone that has typically maintained their own hair, this was a really big adjustment for me. And I didn't adjust very well.
I Cut My Hair
So I cut it off. I did it in early February 2022 and I fell in love with my face. Every other time I've cut my hair off, I felt like I looked like a prepubescent boy and couldn't wait until it grew back. But not this time. I've gotten lower and lower with my hair and now I love it so much. It's easy, I can cut it myself and I have no plans of growing it back just yet.
We Bought A House
I feel like I made this update but it's still a pretty big life update. Right after the Rona hit our house (for the first time), we got the notice that our house was going to be put on the market. I didn't like that feeling of possibly being displaced so we purchased our first home together. That's a pretty big deal in my book!
My Baby Started Kindergarten
I'm almost a mess but I didn't cry. I can't believe that he's in kindergarten. He's also lost his front tooth leaving him looking incredibly cute. I love his school (both abc and BC attend it) and I'm so excited about his growth.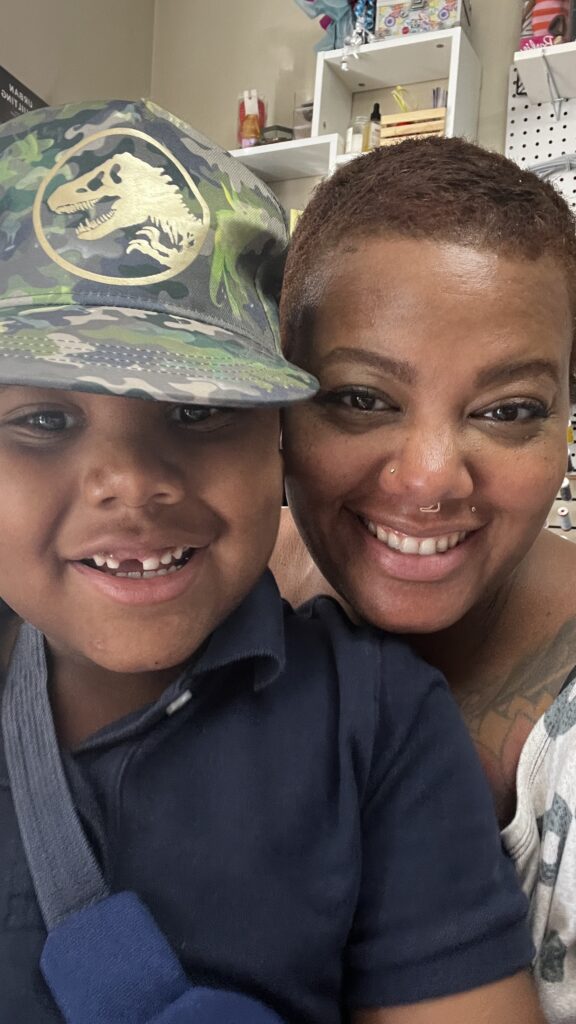 My Business Is Flourishing
During the pandemic, I pivoted from writing here and making most of my income as a content creator to creating content and managing the social media of others. I loved that for some time but that's not where I really feel my calling is and the response that I've gotten from coaching confirms that. My agency now focuses on the 2 areas I was called to serve in–coaching and strategy. I love it so much.
I Started Modeling
Not like mainstream modeling but at the end of last year, Mimi G (yes, THE Mimi G), reached out after I'd approached her about expanding the size range for her patterns. She's been a huge inspiration to me (I sewed and wore her patterns when I did the Listen To Your Mother event) and I was excited. Well, I'm now on 4 of her patterns and the cover of her book. I've also been in a couple of magazines too.
I'm Now An Official Pattern Designer
This is still so bananas to me… But beginning in October 2022, you'll be able to buy patterns that I've designed at Joann's. I'm beyond excited and grateful for this opportunity to represent designs for bigger bodies that aren't mumu's or church attire–no shade to either of these but plus-size people like to wear stylish clothes. I'm anxious and nervous and excited and just ready to embrace this new chapter with open arms.
I've Grown A Lot
One of the things I used to struggle with big time is boundaries because of my people-pleasing tendency. But the pandemic and some other things really forced this growth. I still struggle a little bit with saying no but I say it. I set the boundary. I reinforce the boundary. And I feel a lot better about so much with being able to do this freely.
My Marriage Is Still Strong
Strong, not perfect. I love my husband with all of me and I can confidently say that he feels the same about me. But those in marriage know that it takes more than just love to make a marriage work and to be strong. It takes open, honest and effective communication. It takes compromise and knowing how to love each other in a way that is recognizable. It takes romance and getting uncomfortable. It takes intimacy. We've had some small hiccups but we are strong. We are committed. And every day we wake up to each other, we are renewed.
And there are things that have stayed relatively the same…
We Still Practice Sustainable Living and Low to No Toxic Life
We compost and reduce our plastic usage and I still have long conversations about how recycling is not going to be what makes the changes we need to see with climate change. I haven't had a chance to set up our garden in our new house but I've finally decided that I really want a backyard with a lot of garden space. Like with apple trees, blackberry bushes and more. We are still intentional with our purchases and still want to save the Earth with one sustainable action after another.
Conscious Parenting Is Still Our Jam
This is something that's catching up with more parents and I'm excited about it. We still treat our kids like people and with respect. I still have a favorite child (its fluid… whoever is listening to us the most) and we still struggle hard with how we parent because there are limited resources–especially for Black families. But we are pushing on and learning on the way.
---
My site stats have taken a hit during this time. Between rebranding, lack of creativity and lack of desire to write, my traffic slowed a bit but I'm looking forward to creating.
To those that continue to stick around, thank you. I appreciate you.