At 35 weeks pregnant I'm feeling the best that I have since becoming pregnant. How? I invited someone to my home who delivered the best prenatal massage that I've ever had.
Let me preface this by saying that I'm not a believer in the power of the prenatal massage. Each pregnancy I've had one and each one felt like I was just paying someone to slather me in oil. While my skin appreciated the extra TLC, my muscles, aches and pains were still present. When my prenatal massage therapist, Ebony, arrived, I told her just that–I'm not a believer but I'm pretty ashy so I'm still here for it. Well, she flipped my entire belief system on the prenatal massage.
What To Look For In A Prenatal Massage Therapist
I met Ebony while she was pregnant with her now 3 month old at the Blogalicious conference last year. She has a beautiful smile, the cutest freckles and a calming energy about her. I knew that she was a blogger looking to grow but I had no idea that she was a massage therapist–let alone one certified in prenatal massage. In talking to her about my previous experiences with the prenatal massages, I realize the I went wrong in choosing my massage therapist. Our chat led to the following conclusions when looking for the proper prenatal massage therapist:
Make sure that they're certified in prenatal massage. While any massage therapist will rub up on your back, a certified prenatal massage therapist knows the ins and outs of the pregnant woman's body and how to navigate properly to give an effective massage.
You need to feel complete comfort with your massage therapist. This seems obvious but as she was massaging the most tender and painful parts of my lower back, I realized it was easy to relax into it and breathe the discomfort away because I was completely comfortable with her.
Get a woman who's gone through pregnancy. I know, this is a little sexist but women who have had children know intimately what you mean when you describe certain pains. It's like going to another mother for advice on children. While every woman's body is different, at least this woman has a higher chance of understanding what you're body is going through.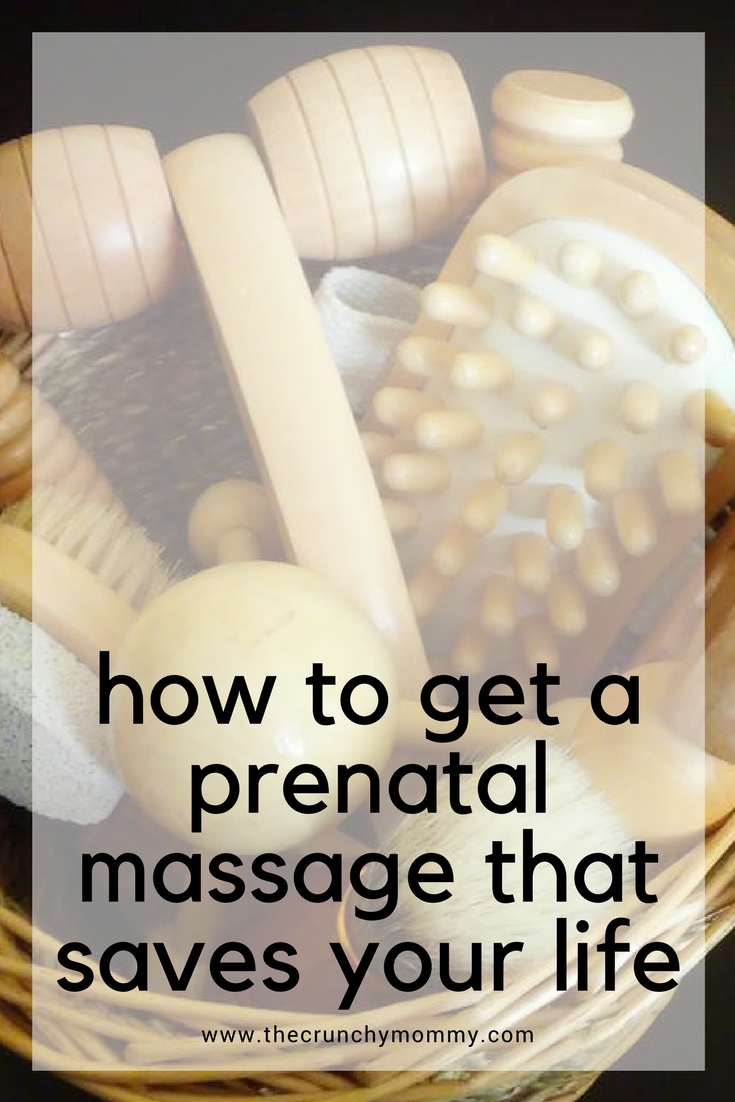 The Benefits of an In-Home Prenatal Massage
All of my previous massages have been at places of business. They've been beautiful places too but there's something so different about the comforts of your own home. When Ebony arrived, I forewarned her that my house was a mess. It was Sunday which is normally our cleaning day. And by "our" I mean my husband and kids because I've been in so much pain that doing just about everything has stopped outside of grocery shopping and cooking. This was probably the only source of tension but she didn't care. She came in, set up her table and had an essential oil diffuser going that had my living room filled with bergamot easing pre-existing tensions.
I didn't have to leave the comforts of my sweat shorts and husbands white tee to get treated professionally and I loved that. We turned on my Google Home and let the sounds of Pandora whisk me away into a pain-free euphoria. Once it was all said and done, I didn't have to put shoes on, sit in the hot car and head home. I rolled off the table and felt no pain in my body for the first time in months. I feel so good I'm almost tempted to clean the house–almost.
Let Me Gush For A Second…
This pregnancy has been hard. From the time my little egg was fertilized, it's been rough. From non-stop puking and extreme exhaustion in the first trimester to constant pain beginning in the second trimester, I honestly didn't think I would get relief from anything I've been feeling. My creativity and writing has taken a hit because let's be real, who can be creative and think happy thoughts when constantly in pain? I was apprehensive about Ebony coming over. She made no promises to how I would feel but delivered on every broken one that I'd previously received. This woman is truly gifted with her hands. She gave me a deep tissue massage that hit every point of pain that I'd been experiencing and massaged it away. When I stood up after she was finished, I was able to do so without wincing in pain. My lower back is no longer a source of issue for me. I walk, bend over, take the stairs and put on panties (super winning) with no pain. It feels amazing.
Who Is Ebony and How Can You Reach Her?
I'm not the selfish type. Ok, I am. But I feel amazing right now and I want others to feel this way too. For those of you in the Atlanta area–pregnant or not–here is her information:
Healing Mother Massage & Wellness
Ebony Ricks, LMT
757-292-9769
info@healingmothermw.com
healingmothermw.com
I encourage you to let her come and nurture you! Tell her I sent you!
Mamas, have you had prenatal massages while pregnant? What was your experience like?