Winter is coming–eventually. It doesn't matter that for the past week Atlanta has been having record-breaking high temps. I know it's going to get cold eventually and when it does, I'll be ready with my favorite eco-friendly sweaters that are on the market. 
10 Cozy Eco-Friendly Sweaters 
If you're just now hearing about eco-friendly clothes, welcome to the 21st century. I kid, though I'm serious. Eco-friendly clothing is a very big thing and something important for people to know about. While the price point is a little higher, it's worth it for the environment. 
Fair Indigo Fair Trade Cotton/Alpaca Waffle Knit Cardigan
Waffle knit is one of my favorite materials. And this comes in one of my FAVORITE fall colors: mustard. Yes, this will be joining my closet soon. While I love the gold/mustard, this Fair Indigo Fair Trade Cotton/Alpaca Waffle Knit Cardigan also comes in navy and gray. 
Fair Indigo Fair Trade Organic Knit Blazer
There's nothing like feeling like wearing PJs but looking like a million bucks. This blazer is made of French Terry–which I have an absurd amount of in my own fabric stash because it's so lovely! This Fair Indigo Fair Trade Organic Knit Blazer comes in black, auburn, caramel, dark camel, and navy. I think this blazer in navy would be so fetch!
Alternative Women's Printed Slouchy Pullover
This is a light-weight, raglan sweater with dolman sleeves. I love everything about this. It's comfy and pairs perfectly with leggings, joggers, and jeans. My fave is the camo and they have two versions with them. Naturally the one with the mustard color is what I'm loving. 
 Women's Angelica Duster Top
PRANA is one of my favorite eco-friendly brands. I love this chunky sweater and it screams cozy. While this Angelica Duster is all sorts of lovely, it's NOT duster length–it's more like tunic length. I love love love the heathered coloring. The deep marsala color is EVERYTHING!!!
prAna Womens Silverspring Top
There's nothing like a little bit of texture on basics to make them any thing basic. I love the simplicity of this top coupled with the beautiful detailing of the mini cable knit. The white makes it more dressy than it is and I love that.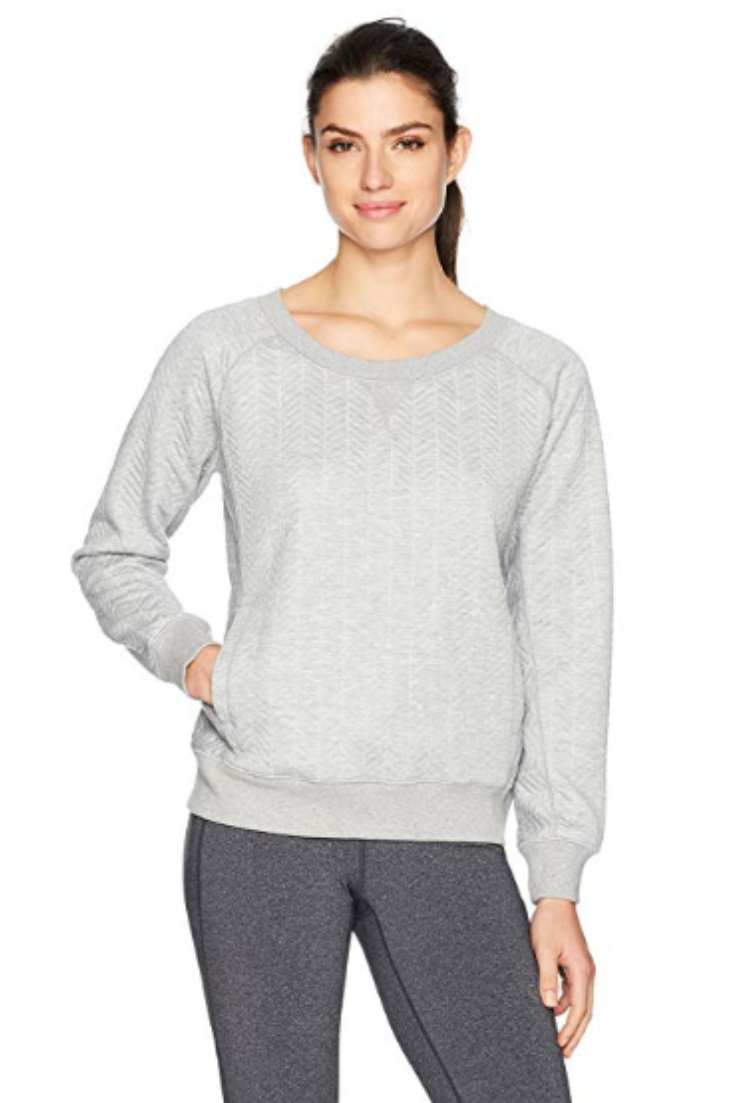 prAna Rho Duster
Ok, now this feels like a real duster to me. The Rho Duster seems to be screaming "WEAR ME NOW!!" It only comes in two colors but they're beautiful. 
prAna Delaney Duster
This is another duster that doesn't really feel like a duster though I love it. This *may* be my favorite sweater on this list. It's so chunky and so cozy and just everything! 
Synergy Organic Clothing Kathmandu Tunic
This is another French Terry piece that comes in two colors–black and gray. Oh, and guys, this has pockets. *squeals with delight*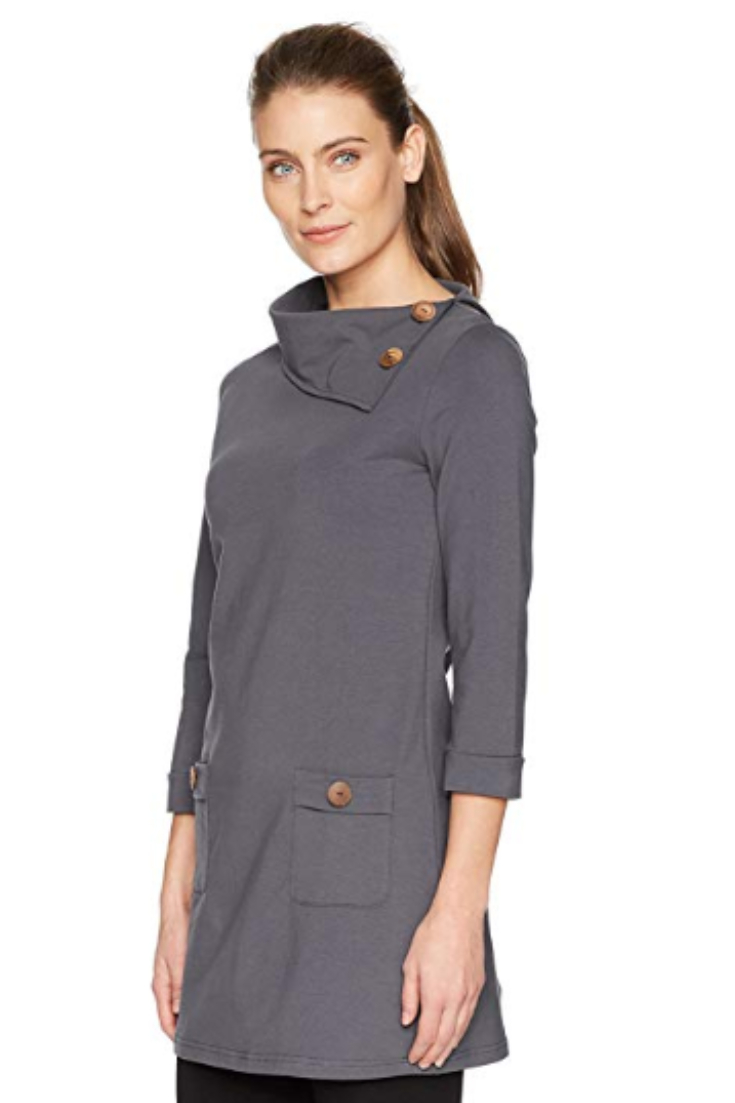 Synergy Organic Clothing Metamorphose Cardigan
This is a wrap sweater. So you know this means it's nursing friendly! I love how this can be worn as both an open front cardigan and a wrap sweater. Dual function means worn all the time!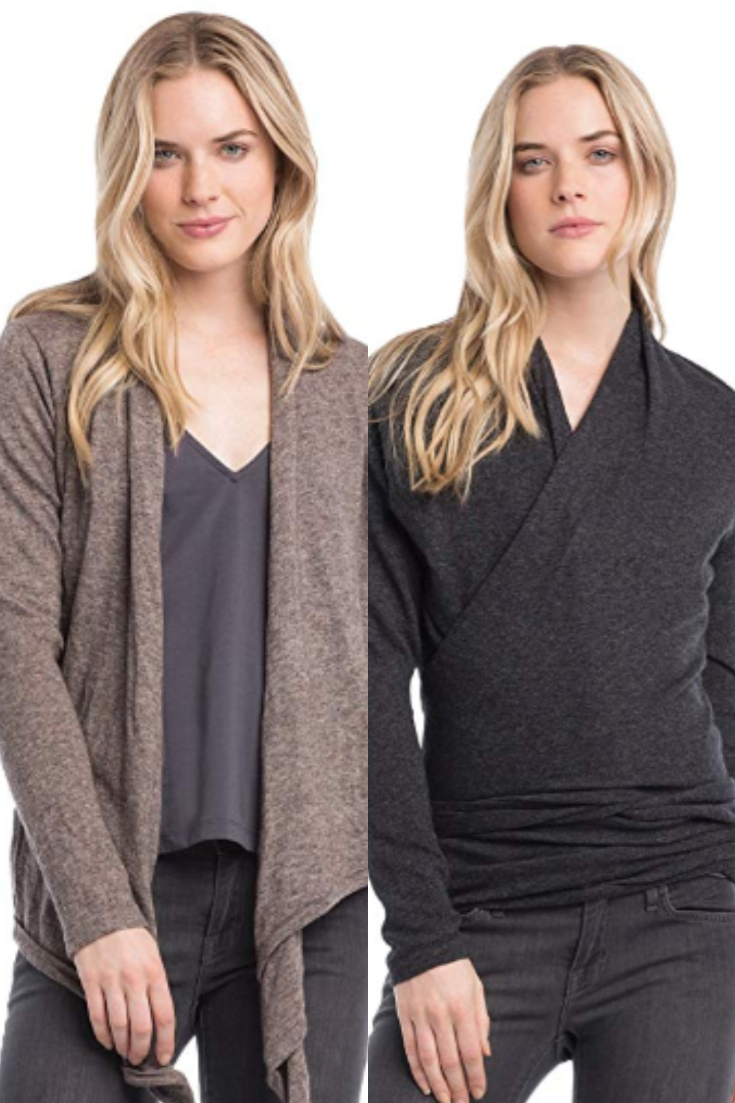 prAna Lima Cardigan
Cocoon cardigans are everything in life which is why I'm ending this list with this. How gorgeous is this eco-friendly sweater!?! The bone color is seriously calling my name.
It's basically impossible NOT to be ready for the cool weather with these eco-friendly sweaters! 
So tell me: which one is your favorite?