This is a sponsored post on behalf of Nellie's Free Range Eggs. All thoughts and opinions are my own.
I have so many fond memories of egg salad sandwiches when I was a kid. I used to looooove to make sandwiches with lettuce and tomato. When I first made my own children a basic egg salad sandwich, they looked at me with utter disdain–apparently it wasn't seasoned properly!
Listen friends, the quality of ingredients that you use matters–even when making the little things. When I was at Organic Valley this year, we talked about food labels and the things we should be paying attention to while making food decisions for our families. I put my knowledge into play when using Nellie's Free Range Eggs.
What Does 'Free Range' Mean?
And why is it important, right?
Free range means that the hens were raised in open space where they were free to walk around grassy pastures. This means that these hens have been exposed to more greens and insects in their diets affecting the yolk and quality of eggs.
Nellie's takes this a step further in that they are raising their hens in a Certified Humane environment–meaning that they follow the highest standards in humane treatment of their hens. They are very transparent on their website showing both their free-range environment and candid shots of the hens in action.
What better eggs to use to try to get my kids on board for egg salad than those from happy hens?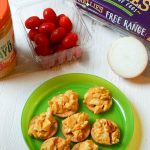 Deviled Egg Salad
This egg salad is soooo good that even your kids will want to devour it!
Ingredients
8

Nellie's Cage Free eggs

2

tbsp

Chipotle Lime Avocado Mayonnaise

1

handful

grape tomatoes

1/3

onion

chopped

salt

pepper

paprika

turmeric
Instructions
Rinse eggs in cool water.

Chop up eggs, onions and tomatoes.

Serve! We love ours with crackers!
The Difference of Nellie's Free-Range Eggs
Friends. My kids devoured their egg salad. I was so excited to see that this went over so well with them! Abc used her fork to put the egg salad on her crackers while BC made a huge mess trying to get his into his mouth. I couldn't stop myself from eating them while I peeled them!
It's amazing the difference a quality product makes!
Do you buy free-range eggs?
Check out where to find Nellie's Free-Range eggs at NelliesFreeRange.com.