"I participated in an Influencer Activation on behalf of Influence Central for Carter's. I received a complimentary gift card to facilitate my review and thank me for my participation."

I use the term "back" loosely since today marks mini's first day at big girl school. Now that she's officially a kindergartner and my impeccable sense of style has rubbed off on her, I thought it would be fun to take her school shopping for some new threads. Most of her wardrobe has magically appeared in her drawers courtesy of big cousins and Once Upon A Child but now that we're in big girl school, it's time for her to shop in stores.
I was super excited about our excursion at Carter's since I love their style. I knew that taking her there and letting her pick out some cute outfits she would not only find something that would be cute, fresh, and stylish, but also age-appropriate. Shopping at Carter's was easy and fun since they have a wide variety of easy outfit sets, coordinate collections, and ready to wear shorts and tees for both mini and abc. They're normally donning some cute piece from Carter's–especially since I can coordinate their outfits together since mini loves having abc match her.

When we got to the store, mini was ready to shop. As soon as we walked in, she was dropping cute shirts, colorful dresses, and fun pants in the stroller to buy. This Fall line is probably one of my favorites since I looooooove florals, denims, cheetah and army fatigue. Carter's definitely hit the nail on the head here! I really wish that these things came in my size because the way I would rock them so hard…
Outside of the modern twist on some traditional florals, a fresh look at army fatigues, and cute cheetah, the deals were AH-mazing! I got between 40-50% off everything and yes, I'm talking about the new line here. Right now they have the "Bright Now" Sale (40% off the entire story thru 8/4) which features $5 doorbusters of baby shorts, short sleeve tees, $6 leggings & coordinated tees, and $12 hoodies. Beginning on 8/5 thru the end of the month they have the "Count Me In Preschool"Sale with up to 50% off. And if you think Carter's is just for babies, think again! They now go up to size 8 in clothes and 3y in shoes! Even if you've already done your back to school shopping, stop in and stock up on some of the fall favorites at great prices.
What's even better is that I have a coupon for you to use when you go shopping. Print this coupon or pull it up on your phone to received your discount: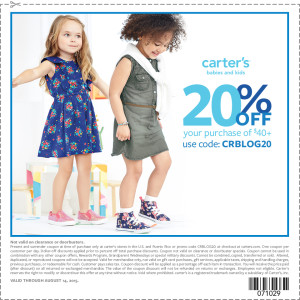 Check out our footage from our shopping excursion here .
Have you done your back to school shopping yet?
Check out Carter's in store and virtually here: