The holidays are looking and feeling a little different for my family and I. When I was a kid, I absolutely loved the holiday season. There was so much magic but everything seemed to move so fast. In addition to things moving fast, it seemed like everything was attached to things instead of moments. As my family and I prepare for slow living during the holiday season, I want to share 5 tips that are helping us stay in the moment to make memories.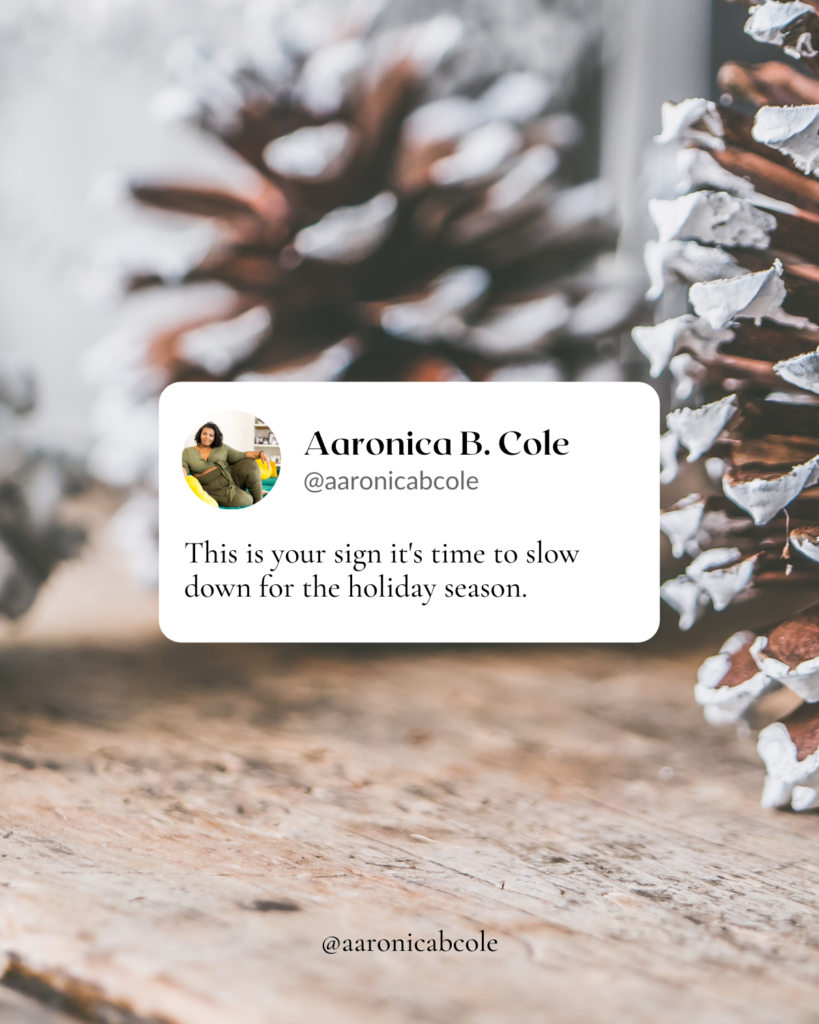 5 Tips For Slow Living During The Holiday Season
Set the intention of having a slow holiday season and make sure your family is on board.
Have a small holiday party that doesn't involve gifts.
Say "no" to doing things that stress you out.
Have less time on electronics.
Pick out the traditions you love.
---
Set the intention for a slow holiday season.
Falling into old and stressful ways around the holidays can happen. It's like muscle memory, right? Instead of doing that, make sure that you're setting the intention that this season is going to be slow. Decide what's important to you during this season and let that be your focus. Here are some questions for you to ask as you prepare:
What does this season mean for you and your family? Is it about the memories? Religion? Etc.
Which traditions mean the most?
What 2-3 things can you do to help others this year?
Are there fun things that you can do as a family?
What memories are most important to make this season?
The focus is to simplify the holidays in money spent, stress inducing activities, and deciding what's important to you.
Have a small holiday party.
No gifts though. The gift is in spending time together. If this is NOT your thing then definitely don't do it. But if you love having friends, family and kids gather, do it. Make it simple and small planning activities that will make you smile. And this may be the only holiday part you attend and that's ok too.
Say "no" to things that stress you out.
There are a myriad of things that stress me out during the holidays. Travel is a major trigger for me because there are already a lot of irresponsible drivers out and about. Having anxiety on top of that just doesn't make me happy. That and we have 3 very expressive kids. I don't want to have to spend my time checking to make sure they're ok. If I'm going to travel, I want to go somewhere that is kid-friendly and can accommodate both them and us.
Holiday shopping, being in large crowds, too many lights, being in the cold, all of these can be unpleasant to others so just say no.
Have less time on electronics.
One of the things that put me in a mood on Thanksgiving was listening to a podcast that triggered me. Friends, put your phones down and enjoy your people. Yes, take the pictures but just save them. They don't have to be shared immediately. Have the conversations, sing the songs, do the crafts. Live in the moment with the people you love and make the moments worth living.
Pick out the traditions you love and do them.
There are so many traditions that we love during this season and some things that we've tried without success. Some of the traditions that really make our hearts happy are:
Holiday parties: We love entertaining and having people over. I love love love the Christmas cliches, entertaining, and providing a space that's safe for families.
Matching family jammies: I love it. I love taking the poorly taken picture of everyone looking crazy and smiling.
Wrapping presents the night before: This really is the icing on the cake for me. I love how the tree looks with the sacks under there for each of the kids and the very few large presents that I've had to have my husband put together.
DIY Advent Calendar: I love this because the things that matter to us change from year to year. One year we might be focused more on kindness so we can set up the advent calendar how we want. Or another year we do something different. But either way, we aren't adding much waste because we reuse the advent calendar.
Holiday baking: I didn't realize it but doing this really makes me happy. I love the smells and the sweet treats and baking with my littles.
Blasting Motown Christmas tunes: Motown Christmas and Mariah Carey ALWAYS fill my heart with so much holiday joy!
These are just some of my favorites to give you some ideas. But whatever the traditions you love, make them an annual thing.
---
Learning to slow down and be more intentional is something that I realize really matters. When I sit and think about my own holidays as a child, I never remember the things that I got, I always remember the memories that were made. Slow living during the holiday season really focuses on being in the moment and making those impactful memories with the ones you love.
I hope you and your loved ones have a happy and slow holiday season!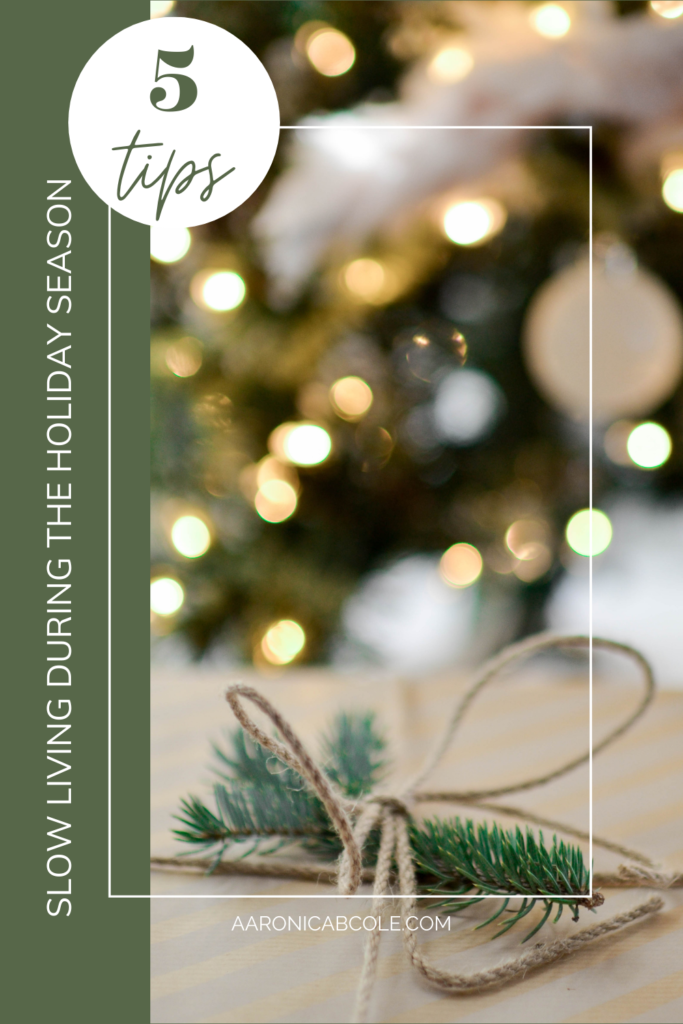 More Holiday Reading Here: