How does a car save spring break? Let me explain…
The week before mini's spring break, the TCM household got hit hard. In fact, as of last week we're all finally in the clear. Both the hubs and I were kicking it in Urgent Care together tag teaming the doctor's. He was diagnosed with strep throat yay. I was diagnosed with some really bad allergies that irritated my normally controllable asthma. With my lungs closing up and his throat bumpier than rocky road ice cream, we prepared to rest up a couple of days. Or so we thought. Abc woke up Wednesday with a fever. Friday mini developed a little rash that eventual spread into a huge rash.
Hand. Foot. Mouth. Disease.
The Friday before spring break she was the last one down for the count in the most contagious way. We were unprepared for this hitting our home. Like I was scouring Google and interviewing my mommy boards for the 411 like I was the cops on a good day. We had planned on going to Orlando to visit my sisterfriend Brittany who had a baby a couple months ago. A baby boy that I just could not wait to love up on and a friend I needed to see! We had planned on heading to Disney and enjoying the Magic Kingdom in all it's glory but with mini being contagious, all of these plans were ruined. Until my moms came through with information that doctors confirmed: mini was no longer contagious and we were free to leave the quarantined area.
About an hour after this was confirmed, the most brilliantly blue colored 2016 Mitsubishi Outlander Sport arrived in my driveway. I mean, this thing is like truly majestic in color. You guys already know that I love a Mitsubishi and it brings memories back from childhood so I was excited to hop in and make some memories with my family.
Orlando in the Spring
We didn't go to Disney but that's not the only place to have fun in Orlando! The Orlando Science Center proved to be a big hit for all of us. Check out these pictures!
These pictures only capture a few moments of the memories we created while with Auntie Brittany and the babes. But so many more were made.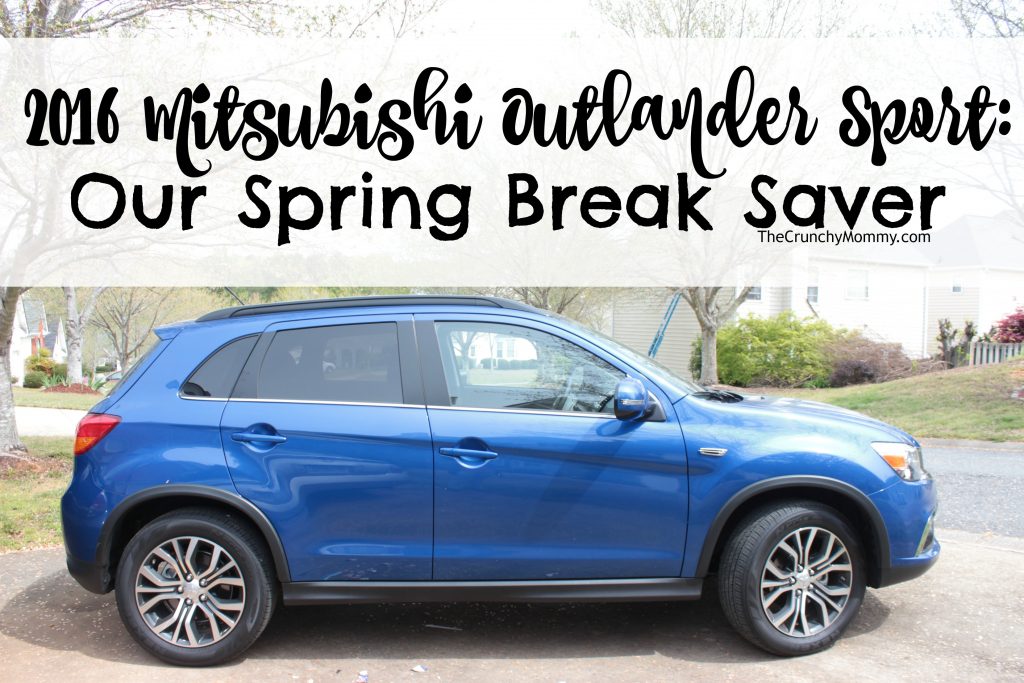 The 2016 Mitsubishi Outlander Sport
After confirming that we were still heading to Orlando, I had our clothes and car packed in about 30min. The trunk of the Outlander made packing it super easy.
My Loves:
The highway gas mileage was a plus. We made it from Atlanta to Orlando and only had to stop for gas once. When we arrived, we still had almost a full tank. Score!
The design is truly beautiful and quite simple. It's very minimalistic in a good way. It's not too hard to find the controls you're looking for.
Handles beautifully. This baby was so easy to drive and whip around.
Trunk space galore!!!
The Thing I didn't Love
And yes, there's only one–for a family of 4 this was possibly too compact for road tripping. This is THE perfect everyday vehicle. Great gas mileage, compact so it fits in parking spots, super cute and trendy. But by the time we pulled back into Atlanta, this car was demolished. There was popcorn and other snacks in places I didn't even know existed!
This is our first spring break with a grade schooler and the plague almost made it impossible for us to enjoy. With the help of the 2016 Mitsubishi Outlander Sport, we were able to make some lasting memories with our girls.
What was your favorite part of spring break?
**Disclaimer: TCM received a compensation in some form for this review though all thoughts and opinions expressed are my own.**