Once you become an adult, it seems like your life is a never ending run of errands. When you add children to the mix, you add birthday parties, sports events, competitions, play dates, and the like every.single.weekend. Having kids in the car provides an insane amount of distractions between the "Are we there yet?"s and the constant requests for different music or to talk to nana or…well you get where I'm going with this. Well, I had the opportunity to test drive the 2016 Kia Sorento and I fell in love. I nicknamed our Kia Sorento "Muva" because of her mother-like intuition.
Yes, you read that right. This vehicle is soooooooo intuitive that it even welcomes me to the car and says good bye when I leave it!!!
Exterior
I think every feature on this car is my favorite but lets start with the exterior:
Smart Welcome Lighting – when I walked up to the car, the lights turned on and welcomed me to the car! I love this feature especially because at night it's comforting to have the light scare off potential predators.
Panoramic sunroof – this might have been my favorite feature because of my tendency to sit in the car after I've parked.
Smart Power Liftgate – when you have the key and stand behind the door, the trunk opens by itself!! Can you picture how helpful this is when you're carrying a whole lot and you're struggling with your keys?!?!
Interior
I could quite literally list every feature in the entire car because Kia really outdid themselves here.
Surround View Monitoring – this is so cool. When you put your car in reverse, you can see 360 degrees around the vehicle.
A million and 1 places to charge your electronics–even your normal plug that you use in the house!!!
Seating for 7–there's third row seating that pops up and goes down really easily 
Different drive modes – there's 3 modes available: Eco, Sport, and Regular.
Heated AND cooled seats!!! Yes, that means you can have both toasty and cool buns! But it's not just the front seats, the back seats as well! 
Heated steering wheel
Reclining back seats. This is a game changer for us because we road trip and mini always ends up falling out of her booster seat folded over uncomfortably. 
It's so rare for me to actually favor a vehicle. If it gets me back and forth from my destination safely, I favor it. But I really appreciated the thought that Kia put into this vehicle. When you're navigating to a destination, you have a choice to see it on the dashboard or the screen. This is a great feature when you have your passenger trying to adjust your music and you still need directions. The amount of thought that the creators put into this vehicle is truly awesome.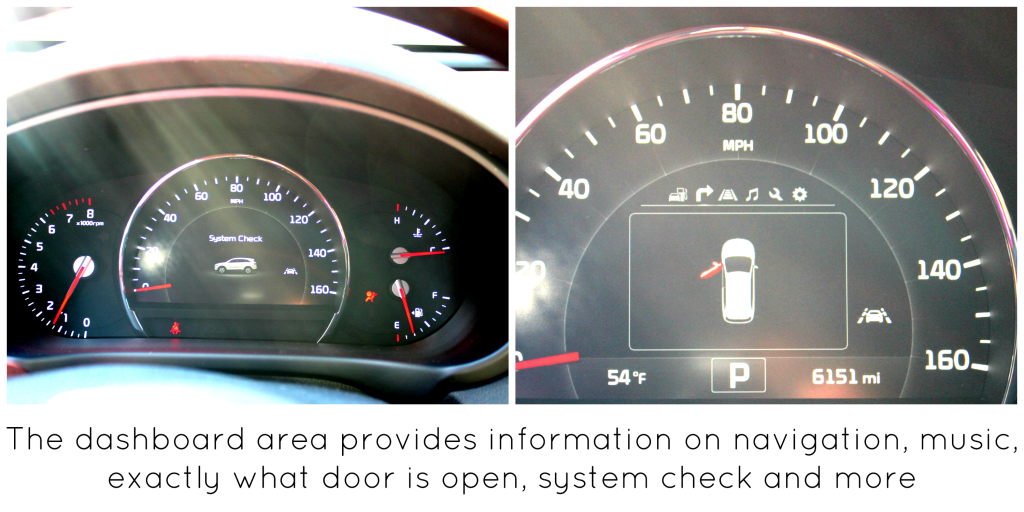 What features in a vehicle are important to you?