As a kid and on into young adulthood I thought routines were mundane. I mean, who REALLY wanted to do the same thing day in and day out right? It's amazing how a little person can totally rock your perspective on things. When I was pregnant with mini, I researched and researched and researched sleep routines to make sure that I was doing everything the right way. And it worked. Mini was sleeping on her own through the night at 6 months and I didn't have to have her cry it out at all. Success. But sleep routines aren't the only important routines in lives.

Best Routines For Productivity
Routines benefit both kids and adults–especially moms that work from home.
Morning Routines for Parents
Morning Routines for Kids
After-School Routines
Evening Routines
Bedtime Routine
Morning Routines
Mornings in my house are tough. No one but abc likes to get up in the morning–the rest of us are all seeking that extra 5-10 minutes of sleep. But mini has always been the worst. In the morning, it's best to get yourself ready prior to the kids. This way if there are any additional hiccups, it's ok because you're already ready to go. This also means making sure that their backpacks, lunches, etc. are ready to go. It's best to leave these things along with any of your things by the door so there is no hectic searching for them in the morning.

After-School Routines
Some kids go to an after-school program and some come straight home–either way, you need a plan. Most days when mini comes home she will drive me crazy unless I have a plan. Abc + mini without a plan? Man… That's insane. After-school routines in our home typically include a snack and some form of exercise with homework for mini.
Evening Routines
These are my favorite! Yes, this is the wind down time that most of us wait for. Our evening routine is dinner with some good conversation. After dinner is a family activity and then showers.
Sleep Routines
With mini, this was so easy. We did a book, song, dance and then bed. Now abc? Maaaaan. Difficult is an understatement. But we're consistent which will pay off.
5 Tips to Developing Routines
Be Consistent: Once you start the routine, make sure that you do it everyday. It's hard, especially on weekends, but you've got to be consistent.
Make sure to be flexible: In starting the routine, kids can be resistant. This might mean that you may need to tweak the routine. Or just allot for the adjustment to the routine.
Be Patient: Anytime we introduce new things to both ourselves and the kids, there can be a frustrating adjustment period. You see the benefit of the routine and you want it to help immediately. But when it doesn't happen right away, it can be frustrating. But be patient with yourself and others.
Write it Down: And set corresponding alarms on your phone. If you're doing it for kids, create picture one for them to see the order in which they need to do things for the end of the night.
Review it: This seems obvious but it isn't. When you start your morning, review what you have to do aloud. Same with the kids. Review what it is they'll be doing when they wake up, get home, etc. so that the expectation is set.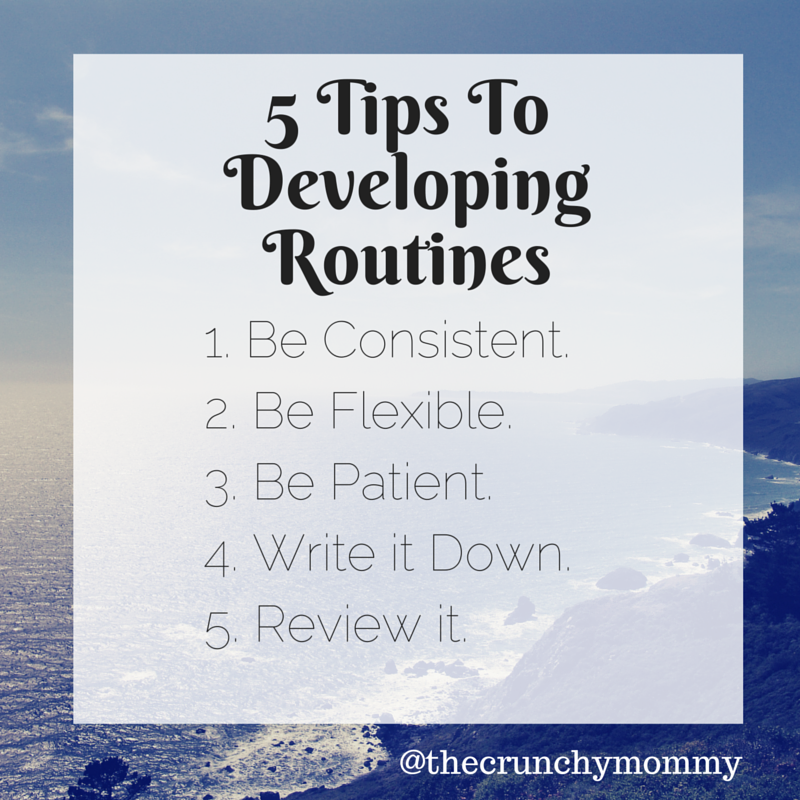 What routines do you have in place?