One of my favorite things about Spring in Atlanta is all the outdoor fun that is waiting for us to have. From festivals to tastings to movies on the green, the fun is never ending! If you're anything like me, you have to plan ahead so you know how many snacks to pack, blankets to prepare, and cups of coffee to have so I've put together a chronological calendar for you! Here's April 2016 at a glance: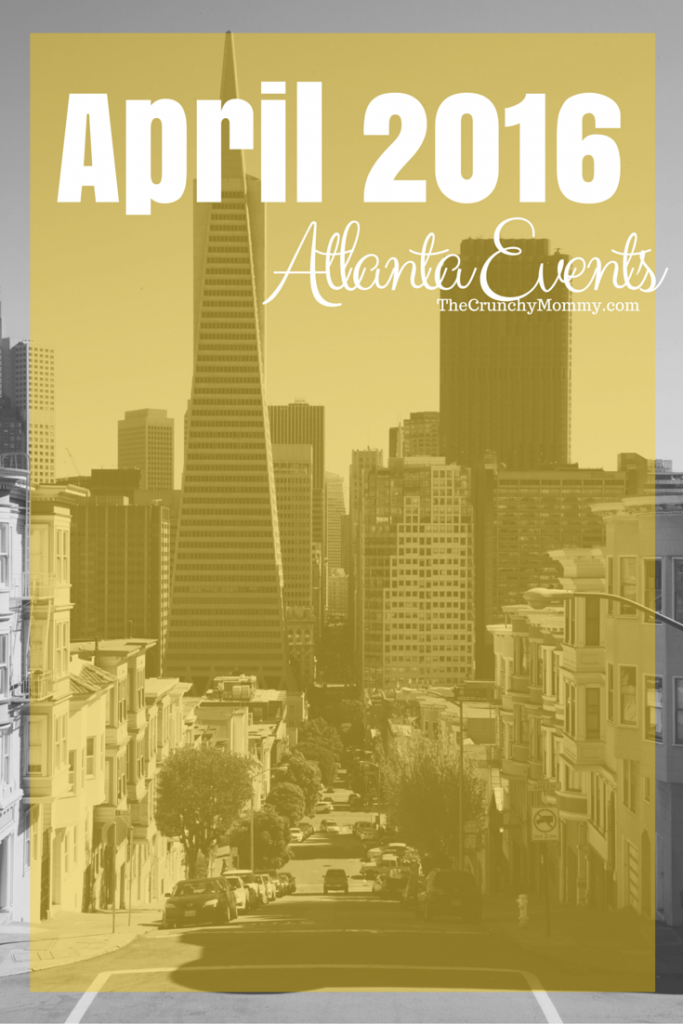 April 1
Beginning in 1977, the Atlanta Film Festival has nurtured the development of a thriving film industry. Beginning on April 1st and going until the 30th, the Atlanta Film Festival will be running. So if you're interested in good, non-mainstream films, this is the place to be.
April 2
Starting off with a 5K, the 2nd Annual Cherry Blossom Festival will kick off on April 2nd and go through to the 3rd. The family and I went last year and had a blast! There were bounce houses, live music, rock climbing and more! It's great for free, family fun!
From 11am-7pm, in Inman Park there will be a Chef's Competition Tasting, live music, local marketplace, and fun. If you want to participate in the tasting, it's $30 and the admission only ticket is $10.
If you're a lover of arts and crafts, then you need to be at Olmstead Linear Park. Not only do visitors get to enjoy the beautiful landscape but they also get to shop one of a kind crafts from local vendors.
International Pillow Fight Day in Grant Park
Everyone all over the world will be participating in this! If you're looking for some good, old fashioned fun, this is sure to give you that! Plus, what's more fun than beating people up with plush pillows?
I don't think there's one daycare, school, or educational facility that doesn't have Eric Carle books in it and the High Museum of Art is having an exhibit dedicated to his works of art through January of 2017!
What child doesn't like trains? On April 2 & 3 the Southeastern Railway Museum will be hosting fun activities for the kids that include tattoos, a caboose hung, crafts and food!
More and more kids are being diagnosed with allergies to so many foods. But what kid wants to survive off of basic gluten free food? None. So this expo is designed to show parents and kids how to eat within their allergies and do so with fun!
April 3
The Chattahoochee Nature Center is celebrating Earth Day with live music, farm animals, crafts, and food trucks! Should prove to be fun for the whole family!
April 7
So this is one of my all time favorite Disney movies and The Center for Puppetry Arts is putting this play on for the kiddos! It's running from 4/7-5/22 so make sure you get your tickets!!!
April 8
This is one of my favorite festivals. In fact, this was the festival that we weaned mini from her pacifier! On both Saturday and Sunday come out to Piedmont Park for live music, food, rides, games and doggy competitions!
If festivals aren't your thing, take a 2.5 hour adventure down the Chattahoochee!!
April 9
The Atlanta History Center is offering a unique view into the process of clothes making showing it from start to finish. Ever wonder how your favorite t-shirt is made? See the process here!
Who doesn't love a block party? Growing up in NY these were a Spring and Summer time must have. Live music, fashion, great food and some adult beverages are sure to provide a great time!
April 10
Orchids are some of the most beautiful flowers in the world. During this exhibition, you can experience the beauty that is the orchid, purchase them, and art.
April 15
This is a family friendly adventure ballet that has been adapted from the 19th century fairy tale.
This fairy tale never gets old! Georgia State University's Opera Theater is putting on this family-friendly production that is sure to excite, delight, and thrill your kids. This production continues until the 17th.
Calling all Trekkies! This is an event that you do not want to miss! So I'm not an old school fan BUT I do love the remakes that have been dropping! And this event held at the DoubleTree in Northlake is promising to be a good time!
April 16
Ok. So I'm a sometimes vegetarian but mostly vegan kinda gal BUT you may or may not (may… definitely) be able to find me here at this festival. Beer + BBQ = my ultimate fave!!!
So for an entire week you can get in free at any of the National Parks in Georgia–including the MLK Jr. National Historic Site in Atlanta, the Chattahoochee River National Recreation Area in North Atlanta, and the Kennesaw Mountain National Battlefield Park. The parks will also be hosting Junior Ranger Days where they can earn a junior ranger badge!
Anything that's titled "Jamboree" screams "Come!!!!!" and honestly, we'll probably be there. Kaiser Permanente will be having some games, music and food. It serves as the the official kick-off for the Atlanta BeltLine Play Day. There will also be free health and wellness screenings here.
This is a program that has been specifically designed for toddlers ages 3-4 years old and their parental unit(s). On the 16th they'll be learning about primates in the Apes are Great! interactive activities.
Arts and crafts, vendors, food, live entertainment… All a recipe for fun! They'll have 250 booths waiting for people to enjoy them, delicious foods to please everyone's palate and great music! This event is on both Saturday and Sunday.
Palooza is another one of those words that make me really want to show up. This is a 2 day festival that is bringing art to the streets of Sandy Springs. There will be 150 vendors, live music, INTERACTIVE art stations and more!
April 17
I can barely contain my excitement for this. Streets are temporarily closed to cars and a new, vibrant city street experience comes alive. You can ride your bike, walk, do whatever but bring a happy heart!
April 20
I took mini to see this and I'm sure she would want to go again but you definitely need to take your littles! You'll be winning as a parent! This goes until the 24th.
April 22
I love beer. Hence me rarely taking pictures below the boob line but this is one of my favorite events. It's a 3-day festival from 4/22-4/24 where you can enjoy beer (of course), comedy, amazing eats, a 5k (for those health conscious or wanting to justify all the beer–carb loading and fast recovery) and great music. This year I hear Ludacris and Cypress Hill will be there!
Earth Day is everyday in my book but for those celebrating annually, this is an awesome place to be. Your littles will learn about the ecosystem and nature. There will be crafts, storytelling and a ladybug release!!!
Now anyone who follows me on my social media knows that mini thinks she can dance but this event is for the REAL children dancers. Like those mini professionals.
April 23
Shameless plug… But yours truly is part of the cast!!! You really should get some tickets to come see my cast mates and I! We guarantee great laughs and lots of tears! Proceeds benefit the Drake House in Roswell!
One of the things that I love is experiencing new and different cultures and that's just what this festival offers. There will be foods, flavors and beautiful visions all anchored in the Arabic culture.
In honor of Earth Day, the Historic Oakland Cemetery is doing a guided tour of the arboretum. As the tour proceeds, talks of native Georgian trees and how they impact our local landscapes and lives will be had.
I'm almost ashamed at how excited I am for this. I love crawfish. I love live music. I love fun and Atkins Park Restaurant is bringing all these together for this day.
Smyrna Spring Jonquil Festival
I tried my very first fried Oreo at this festival and fell in love. I learned that in the South, they can fry anything. Outside of the food, there's live entertainment, bounce houses, and more. This is in the downtown Smyrna area.
Fancy dresses. Big hats. Delicious drinks and "The Best Lawn Party in Georgia". The Steeplechase is an unforgettable event in honor of horseracing, family, and friends.
April 24
Ok. So I'm a foodie in a major way and I've spent most of my years in the Cobb County area. I've fallen in love with so.many.restaurants. that I cannot wait to have a meeting of the greats!
April 27
Have you ever wished you could see Michelangelo paint the Sistine Chapel? Well, this isn't that BUT same idea. Thirty-six of the country's top outdoor painters will produce art from life across the 33-acre campus of the Atlanta History Center and we can observe it!
April 30
Dale Chihuly is one of my dads favorites and visiting the exhibit the last time it was here, I, too, fell in love. He makes some of the most incredible hand-blown art featuring kaleidoscopes of colors and incredible shapes.
---
April is looking like so much fun!! I'll see you guys out and about!
Have an event you want included? Shoot me a message to hello@aaronicabcole.com!